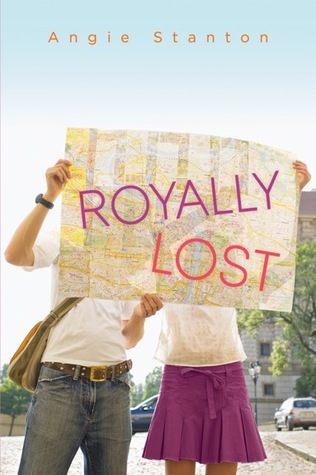 Royally Lost by Angie Stanton
Publisher:
Harper Collins
Publication date:
May 6th 2014
My rating:
DNF/ 2 stars
Dragged on a family trip to Europe's ancient cities, Becca wants nothing more than to go home. Trapped with her emotionally distant father, over-eager stepmother, and a brother who only wants to hook up with European hotties, Becca is miserable. That is until she meets Nikolai, a guy as mysterious as he is handsome. And she unknowingly finds herself with a runaway prince. Nikolai has everything a guy could ask for-he's crown prince, heir to the throne, and girls adore him. But the one thing he doesn't have...is freedom. Staging a coup, he flees his kingdom and goes undercover on his own European tour. When Nikolai and Becca meet, it's their differences that draw them together. Sparks fly as they share a whirlwind of adventures, all the while dodging his royal guard. But Becca's family vacation ends in a matter of days. Will Nikolai and Becca be forced to say goodbye forever, will his destiny catch up to him, or will they change history forever?
Royally Lost gave the vibe of being a fun book filled with adventure and a sweet romance. Instead what I got was insta love and a bunch of control freak parents. Becca was forced on trip around Europe with her dad, step mum and brother, on what was meant to be a chance for the family to get to know one another and spend quality time. Becca can't stand her step mum and her dad never seems to have time for her, so they begin this trip on the wrong step already. Then we have Becca's brother who can be useful at times, at pulling Becca out of quality family time, but then he never seems to be spending time with the family in the first place. I did feel for Becca, her boyfriend had dumped her on graduation and everyone knew about it and then she has to spend time with family who clearly didn't act like one. But if I had the chance to visit Europe and all these gorgeous places, I would definitely be making the most of it, despite who I was forced to hang around with. But Becca didn't really see it that way, but as a sort of punishment, that is until she meets her dream guy in Nikolai.
Through fate Nikolai and Becca end up at the same places in the Europe at the same time, both have one thing in common to get away from their families and experience some freedom. With Nikolai it's perfectly understandable, he's a prince and has a lot of pressure and expectations put on him, so running away and being someone else for the day could be a refreshing thing for him. Of course as soon as he sees Becca, she's the most beautiful person he's ever seen. The same goes for Becca without saying. This insta love really wasn't for me, I know Becca had a bad break up, but Becca was quick to fall for this guy she knew nothing about, at one point when they'd arranged to meet in the next city, she ended up waiting 3 hours for him, before realising that he wouldn't be turning up! Who waits three hours for someone? And then after that all she could do was pine over him and what could have been.
I really am gutted that I ended up dropping this book really early on, but as the book progressed I was easily able to see that Nikolai and Becca would be characters that wouldn't be for me.