Hi everyone today I'm pleased to be taking in part in the Starry Eyes blog tour by Jenn Bennett hosted by Fantastic Flying Book Club. Before I share my review with you here's a bit about the book.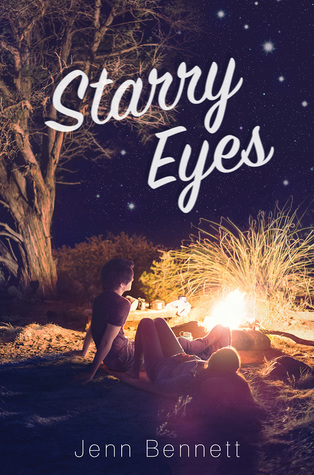 Starry Eyes by Jenn Bennett 
Publisher:
Simon Pulse
Publication Date:
April 3rd 2018. 
My rating:
4 stars. 
Ever since last year's homecoming dance, best friends-turned-best enemies Zorie and Lennon have made an art of avoiding each other. It doesn't hurt that their families are the modern day, Californian version of the Montagues and Capulets. But when a group camping trip goes south, Zorie and Lennon find themselves stranded in the wilderness. Alone. Together. What could go wrong? With no one but each other for company, Zorie and Lennon have no choice but to hash out their issues via witty jabs and insults as they try to make their way to safety. But fighting each other while also fighting off the forces of nature makes getting out of the woods in one piece less and less likely. And as the two travel deeper into Northern California's rugged backcountry, secrets and hidden feelings surface. But can Zorie and Lennon's rekindled connection survive out in the real world? Or was it just a result of the fresh forest air and the magic of the twinkling stars?

I've been devouring Bennett's books lately, they've just been satisfying the need for great Contemporary YA books, they're refreshingly fun, bring such swoony relationships and I just don't want to put them down. So, when I first heard about Starry Eyes, I knew it would be a book that I couldn't wait to have in my hands and let me just say this book is so worth it. I love books that feature best friends to enemies trope, especially more so here, as Bennett really gave us this story between Zorie and Lennon well. I liked how we didn't really know what had caused this rift between them, but I was dying to know, as they had been the best of friends for a long time, and then things just came to an end one night. And Zorie's dad didn't really like Zorie spending time with Lennon either and what was up with that? 
I liked the whole set up that we got from this book, with Zorie and her friends going on a glamping (glamourous camping) trip with her friends and Lennon turns up unexpectedly. But in a way it was probably good that he did, as everyone else seems clueless with what to do. And when they got kicked out and had to go on their own, Lennon's the one that takes the lead and tries to keep everyone on track. This glamping trip didn't really turn out the way that Zorie was expecting, she thought she'd be able to spend time with friends, but she ends up being ditched and stuck with Lennon instead. But to be honest for me, this was really the better alternative for Zorie, there were still so many unresolved issues between her and Lennon and I really wanted to get to the bottom of them, also what she had with Lennon before everything hit the fan, was amazing, and I was hoping that there would be the chance for Zorie and Lennon to salvage some of it at least. When the truth was actually revealed about what really went down, I was quite surprised, as I wasn't expecting it, but it really explained and justified the reasoning behind one of the characters behaviour. It really was an emotional upheaval for our characters having to deal with this, but I think Bennett did an excellent job giving us this aspect of the story. 
I'm glad to say that I was actually right in my assessment of characters for once, I had an inkling of which characters were about to kick off and which weren't worth the time either. It was kind of awful these characters living up to some of the things that I expected to happen, especially when they hurt a lot of other people along the way, but you know those self-absorbed characters that only really think about themselves? seriously they weren't worth it, but they riled me up either way, like how can you be completely clueless? This minor annoyance aside, Starry Eyes really was a beautiful read, I loved the whole stargazing aspect that Zorie was interested in, but also how emotional and raw this story could be too. Bennett's storytelling was again done eloquently and I loved getting lost on this trip with Zorie and Lennon.
About the author: Jenn Bennett is an award-winning author of young adult books, including: Alex, Approximately; The Anatomical Shape of a Heart (aka Night Owls in the U.K.); and Starry Eyes. She also writes romance and urban fantasy for adults. Her books have earned multiple starred reviews, won the Romance Writers of America's prestigious RITA® Award, and been included on Publishers Weekly Best Books annual list. She lives near Atlanta with one husband and two dogs. Visit her at www.jennbennett.net.