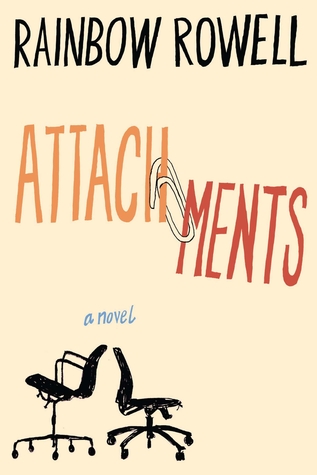 Attachments by Rainbow Rowell
Narrated by
:
Laura Hamilton
Publisher:
Brilliance Audio
Length:
9 Hours 7 Minutes
Audiobook Publication date:
April 14th 2011
My rating:
4 stars

"Hi, I'm the guy who reads your e-mail, and also, I love you . . . "

Beth Fremont and Jennifer Scribner-Snyder know that somebody is monitoring their work e-mail. (Everybody in the newsroom knows. It's company policy.) But they can't quite bring themselves to take it seriously. They go on sending each other endless and endlessly hilarious e-mails, discussing every aspect of their personal lives.

Meanwhile, Lincoln O'Neill can't believe this is his job now- reading other people's e-mail. When he applied to be "internet security officer," he pictured himself building firewalls and crushing hackers- not writing up a report every time a sports reporter forwards a dirty joke.

When Lincoln comes across Beth's and Jennifer's messages, he knows he should turn them in. But he can't help being entertained-and captivated-by their stories.

By the time Lincoln realizes he's falling for Beth, it's way too late to introduce himself.

What would he say . . . ?
Attachments
was such a charming, perfect example of "chick lit" with wacky humor, and a sweet slow burn romance.
Lincoln is stuck in a life rut at twenty-eight. He's back at home living with his mother, stuck in a job that pays well but is completely unfulfilling, and still hung up after a bad college breakup.
Part of Lincoln's job is to monitor the company email for improper usage and to hand out warnings to abusers.
When Beth and Jennifer's emails wind up in his flagged folder he finds himself captivated by their messages, and this inspires Lincoln to launch out of his rut. Lincoln slowly falls for Beth, just by reading the email exchanges, and he begins to fall in love with her sight unseen.
"Lincoln?" she asked.
"Yes?"
"Do you believe in love at first sight?"He made himself look at her face, at her wide-open eyes and earnest forehead. At her unbearably sweet mouth.
"I don't know," he said. "Do you believe in love before that?"
Beth spies Lincoln in the break room and falls for her "cute guy" as she calls him, without knowing anything about him.
I wondered how this romance would work out, especially in light of the fact that Beth has been in a relationship for the past eight years.
I really felt for Lincoln. He's the kind of guy who falls hard and so it ripped his heart to shreds when his college girlfriend broke it off, and he's never quite moved on.
I felt for Beth, too. She's in a stagnant relationship with Chris who's emotionally unavailable most of the time. Chris wants space and doesn't hold the same life goals important, so instead of being married with children at this point in her life, everything is in a holding pattern. Chris was a total loser, IMO, and most people around Beth thought the same thing. It just took a while for Beth to catch up.
As the story plays out, Lincoln, Beth and Jennifer go through some major changes all the while learning and growing from their experiences.
I feel like Beth and Lincoln's romance was the centerpiece of Attachments, and I was rooting for it the entire time.
I loved this unique story which reminded me so much of the popular '90s chick flicks, You've Got Mail and Sleepless in Seattle.
This would've been a solid 5 stars for me if I didn't have to wait quite so long for this couple to actually get together.
The reason for Lincoln holding off was not quite the big deal as the story made out, to me, but other than that Attachments was great fun!
The narrator was upbeat and cheery in her delivery which suited the story perfectly.
Favorite Quote:
"I didn't know someone could love me like this," she said. "Could love me and love me and love me without...needing space."
Lincoln wasn't asleep. He rolled on top of her.
"There's no air in space," he said.