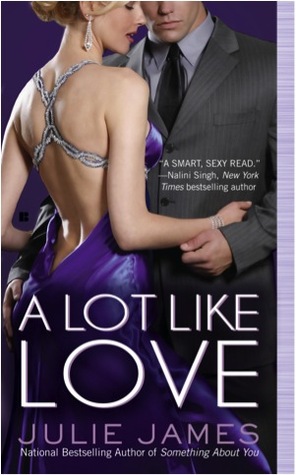 A lot Like Love (FBI/US Attorney #2) by Julie James
Publisher:
March 1st 2011
Publication Date:
Penguin
The FBI wants her cooperation... As the daughter of a billionaire and the owner of the city's top wine store, Jordan Rhodes is invited to the most exclusive parties in Chicago. But there's only one party the FBI wants to crash: the charity fundraiser of a famous restaurateur, who also happens to launder money for the mob. In exchange for her brother's release from prison, Jordan is going to be there—with a date supplied by the Bureau. Agent McCall just wants her... As the top undercover agent in Chicago, Nick McCall has one rule: never get personal. This "date" with Jordan Rhodes is merely an assignment—one they're both determined to pull off even if they can't be together for five minutes before the sarcasm and sparks begin to fly. But when Nick's investigation is compromised, he and Jordan have no choice but to pretend they're a couple, and what starts out as a simple assignment begins to feel a lot like something more.
I love reading books where two characters are forced into a situation; these characters don't normally end up liking each other from first appearances. But the situation gives them no other choice but to spend more time with one another. And what had started off as tense feelings for each other soon develops into feelings under the surface that neither character realised existed. Julie James does a fantastic job with this and this is one the main reasons that I'm able to gobble up her reads. Plus her books I always tend to pick up when I'm always chocker blocked with things to do, so I love being able to squeeze in parts of fun, banter and sexy times in my busy little schedule.
Nick and Jordan are forced to be boyfriend and girlfriend as part as an undercover FBI operation. Nick was roped in at the last minute, but Nick being one of the best agents around is quick to adjust to his new character. Jordan of course will finally be able to see her brother a free man after the US Attorney made an example of his shutting down of Twitter for two days. The development of Nick and Jordan's relationship was a lot of fun to watch. Nick and Jordan were so similar to one another with their sarcastic personalities and how they always pushed their loved ones before their own needs, that I sort of wished they'd realised their feelings a lot more sooner, because when they did finally get together, gosh *fans self* they were the perfect fit. But the sweet, yet tense build up and "don't fuck with me face" that we got from Nick I hugely appreciated.
Despite Nick and Jordan risking a lot by their fake relationship, A Lot Like Love for the main part wasn't all fun with dire and tense scenes. Nick and Jordan were really funny characters, I loved how they both tried to make light of situations and their charming tendencies were quick to bring a smile to my face. Despite A Lot Like Love being predictable in some aspects (I totally knew how things would end) I really didn't care. A Lot Like Love was exactly the sort of book I was in the mood for; it had witty, but also very sexy characters and was perfect to curl up with on a miserable day.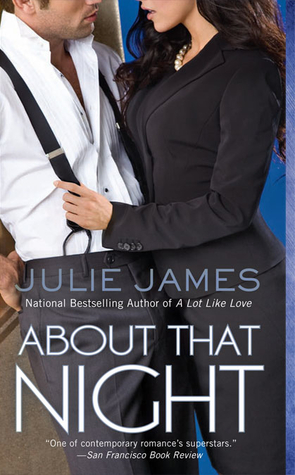 About That Night (FBI/US Attorney #3) by Julie James
Publisher:
April 1st 2012
Publication Date:
Berkley Sensation.
He's Playing Games Though Rylann Pierce tried to fight the sparks she felt for billionaire heir Kyle Rhodes the night they met, their sizzling chemistry was undeniable. But after being stood up on their first date, Rylann never expected to see him again. So when she finds herself face-to-face with Kyle in a courthouse nine years later, she's stunned. More troubling to the beautiful assistant U.S. attorney is that she's still wildly attracted to him. But She's Making The Rules Just released from prison, Kyle Rhodes isn't thrilled to be the star witness in a high-profile criminal case—but when Rylann comes knocking at his door, he finds she may be the one lawyer he can't say no to. Still as gorgeous and sharp-tongued as ever, she lays down the law: she doesn't mix business with pleasure. But Kyle won't give up on something he wants—and what he wants is the one woman he's never forgotten.
I have quickly become a fan of these set of characters and their stories that James has given us in the FBI/US Attorney series. I love how James introduces a new set of characters in each book, but also manages to link the characters back to the characters that we've previously come to know and adore. When our couple finally get together there's always this risk that being caught won't always be in their favour. In About That Night Rylann is the U.S. attorney's assistant and Kyle is known as the Twitter terrorist. The former U.S. Attorney decided to make an example of his case and give him maximum punishment for shutting down Twitter for two days. So you could see why a relationship between Kyle and Rylann wouldn't be in either of their best interests. But you just know when you want to be with the other person regardless? And when you find yourself continuously pulled towards each other? This was Rylann and Kyle.
What I loved most about Kyle and Rylann's relationship was that it was one of those missed chance relationships, where due to unfortunate circumstances Kyle and Rylann couldn't get together in the first place, but that strong chemistry was still there between them 9 years later when their paths crossed ways once more. I appreciated despite their ups and downs in their life and their various relationships; they still had that longing for something more.
Once again James was a pro at bringing the sweet and sexy scenes, and truly making the relationship between Rylann and Kyle a realistic one. My only one complaint is that the minor misunderstandings that creep in towards the end; characters misreading signs and totally making wrong decisions. I always find that our characters have already been through so much that why can't they just be together already? This blip aside, About That Night was exactly the sexy fun read I was expecting it to be.