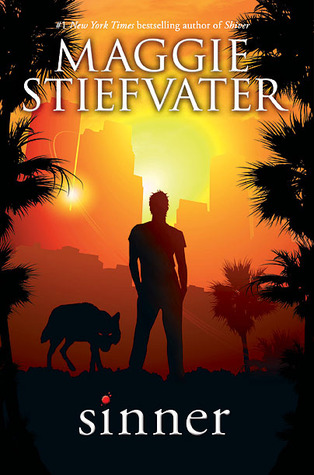 Sinner (Wolves of Mercy Falls #3.5) by Maggie Stiefvater
Publisher:
Scholastic Press
Publication date:
July 1st 2014
My rating:
2.5 stars
Amazon | Barnes & Noble | The Book Depository
A standalone companion book to the internationally bestselling Shiver Trilogy.

Sinner follows Cole St. Clair, a pivotal character from the #1 New York Times bestselling Shiver Trilogy. Everybody thinks they know Cole's story. Stardom. Addiction. Downfall. Disappearance. But only a few people know Cole's darkest secret -- his ability to shift into a wolf. One of these people is Isabel. At one point, they may have even loved each other. But that feels like a lifetime ago. Now Cole is back. Back in the spotlight. Back in the danger zone. Back in Isabel's life. Can this sinner be saved?
I have very mixed feelings about
Sinner
.
There were parts I loved: the writing and the chemistry between Cole and Isabel, and then there was the not so much. I will say I was happy to have closure for Cole and Isabel after so long.
Cole has moved to Los Angeles in an attempt to re-start his music career.
But the main reason he chose L.A. is because Isabel is there and Cole wants a future with her.
Instead of signing on with a record label Cole has agreed to make an album while having it documented by a "reality" show.
One that specializes in featuring stars self-destruct in the process. Cole finds Isabel and inside she dares to dream that he's here just for her.
In Cole's mind he is, but when Isabel finds out about the "reality" show she's ticked and rightfully so in my opinion. What sane girl relishes the idea of her potential boyfriend/partner staring in a reality show? I get hives just thinking about it!
Sinner
had a couple of things going against it (for me) from the beginning that may not be a problem for other readers.
First of all, the whole premise of starring in a sensationalized reality show was a big negative for me. I can't stand "reality" shows that are high on drama and character implosions.
Second, even though I live in a suburb of Los Angeles, I hate the fake and superficial Los Angeles/Hollywood lifestyle where everyone must have the newest, brightest, best of everything: looks and
things
.
And this is the setting.
Cole and Isabel didn't buy into that, but still, that was the setting and it came through loud and clear. I think this is the main reason it felt so different from the rest of the
Wolves of Mercy Falls
series.
It didn't feel anything like it, actually.
The whole shifting and wolf thing hardly factored in the story at all.
The chemistry between Cole and Isabel was palpable and they shared some very sexy moments. It was the best thing about the story, IMO.
But, this was not a couple gradually rejoining, sharing life's burdens and bonding over common feelings. There was no such "togetherness".
Cole and Isabel had their own problems they didn't really discuss with each other.
Each dealt separately and then they'd come together here and there and smooch. Granted, these smooch-fests were very lusty, Maggie is a whiz at building the moment up, but I want more than just kissing.
I want a deep connection, but Cole and Isabel were never really on the same page for the better part of the book.
Cole was always chasing and Isabel was always running.
That was okay, it was nothing unbearable because, like I said they'd get together and have these
amazing
moments, but then the last 20% there was a series of strange and unhappy events. I wouldn't say it was high drama, just more melancholy angstiness, and then BAM at the very end everything is settled without really sorting anything out.
I was a little bewildered, and I'm still scratching my head to be honest.
I do adore Maggie's writing and I'm always in awe at how she's able to set the mood and make you
feel
every scene as though it were happening to you, but I was hoping for more.
Especially since Cole and Isabel were my favorite couple in Forever.