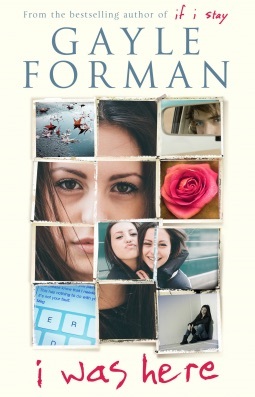 I Was Here by Gayle Forman
Publisher:
Simon & Schuster UK
Publication Date:
January 29th 2015
My rating:
4 stars
This characteristically powerful novel follows eighteen-year-old Cody Reynolds in the months following her best friend's shocking suicide. As Cody numbly searches for answers as to why Meg took her own life, she begins a journey of self-discovery which takes her to a terrifying precipice, and forces her to question not only her relationship with the Meg she thought she knew, but her own understanding of life, love, death and forgiveness. A phenomenally moving story, I Was Here explores the sadly all-too-familiar issue of suicide and self-harm, addressing it in an authentic way with sensitivity and honesty

I was here was a lot different to what I was expecting it to be, Forman's writing was gorgeous once again, but I think the turn of events in this book took me by surprise.
Cody ends up losing her best friend in the worst possible way she gets an email from Meg saying she's taking her life. What's so unexpected about it is that Meg seemed to have it all; a scholarship, a loving family (neither which Cody had), so what would make Meg want to do that? Cody is then put in charge of bringing Meg's things back from college and what is only meant to be a day trip, Cody finds herself discovering this whole other life of Meg she didn't know about, the deeper she delves the more dangerous it becomes, but after all the heartache everyone has been through over the loss of Meg, they all need some sort of closure.
If I was in Cody's shoes and I had just lost my best friend, I too would want to get to the bottom of things. I could understand the way Cody had been feeling, but at times I didn't get why she did things. I liked her as a character, but at some points I think she just frustrated me, I know she had to get to the bottom of the truth and she hadn't had the best life herself and now her biggest anchor in life and just left her. But she was constantly angry, people who'd she just met were trying to make the effort with her, but she'd either leave them hanging, no call back, just push them away or the worst run away from them. Maybe this way was her way of coping, but I wanted her to have somebody to turn to, someone she could confide in, not feel as if she had to try and do everything herself.
So when the mysterious Ben made an appearance, I was grateful for it, okay he had a sort of shady background with Meg, but in a lot of ways too helped Cody when no one else was coming through for her. Some readers may say that he seemed full of himself, and a bit of a player, but trust me this guy could be utterly charming when he wanted to be and he did go out for Cody to help any way he could. Which guy would go all the way to Idaho, Nevada with you, and a guy you've only met recently without an inkling as to why? Which guy would take in a pair of kittens, so they don't have to go to the animal shelter and did I mention Ben had a growly voice; you probably know that I can never say no to a hot guy who growls! I kind of guessed which way things would go with Ben and Cody, but I didn't mind it one bit. Forman really worked the slight romance well into the story, she didn't make it centre of attention, but you kind of had an inkling that it was slowly building up. And it wasn't like Meg was ever forgotten, what I think made it longer for the characters to realise each other's feelings was because of the constant reminder of Meg.
So whilst I wasn't a huge fan of Cody at times, Ben certainly made up for it, also Forman was able to give us some great secondary characters in Alice, Richard and Harry. I think Richard became one of my favourites, he was a funny guy but I especially adored the scene we got to experience with him and his family. And once again all three characters didn't know Cody that well or even Meg, but went on to show just how great friends they could be.
With I was here I wasn't able to guess which way things were going to be, the whole reasoning behind Meg's death I didn't see coming at all. It was a horrible discovery, I just wished that Meg's parents had clued Cody into things before and who knows maybe things would have turned out differently.
I was Here was a different sort of read from Forman for me, but one that I still enjoyed experiencing. It was an achy raw beautiful read at times, but with some great characters coming through when you least expected them to leaving you with some hope that even though things were dire right now they could get better.