Last night I had the pleasure of attending an author event and signing of
Illuminae by Amie Kaufman and Jay Kristoff
at
Once Upon a Time Bookstore in Montrose, California
. These authors traveled all the way from Australia to come and talk about their fabulous young adult Science Fiction story. I loved their accents! Margaret Stohl was added last minute as a speaker to the event to speak about her Black Widow novel.
Margaret Stohl, Amie Kaufman, and Jay Kristoff
It was a lively and fun event, and all the authors were fun and entertaining. As a special treat Johnathan McClain, one of the narrators for the audio book read an excerpt which just happened to be the passage I just left off on before coming in the store. What a coincidence, lol!
Audiobook narrator Johnathan McClain
I'm currently listening to the audio version and I highly recommend it. There are three main narrators, but also a whole cast of secondary narrators and special effects.
Jay said writing Illuminae with Amie has been the most fun writing experience he's ever had. They were able to get immediate feedback, bounce ideas off each other, and help each other out of writing dilemmas.
It's funny to note that both Jay and Amie are not well versed in the science behind the stories they write, but because they wanted their story to be authentic and believable they had a trusted astrophysicist go over all the science and make corrections when needed. They said they both took Hollywood's version of science as correct and found out Hollywood sort of writes it as they like.
Jay Kristoff & Amie Kaufman signing my copy!
As most of you know, I'm a happy ending kind of girl, so I had to ask Jay what he had against happy endings (as proclaimed in his bio)?! He laughed, and said a happy ending must be earned. It doesn't mean as much if the characters don't go through major turmoil first. He used the example of the Star Wars trilogy. The first movie (spoiler alert if you haven't seen the movies. And if you haven't, what rock have you been living under?!!) Luke fires missiles, explodes the Death Star and they all go home and get medals. The End. That was nice, but in Empire Strikes Back they leave Luke, Han, and Leia in emotional turmoil and danger, and yet that was the movie that resonated with him the most. When we finally do get the happy ending in Return of the Jedi, it means so much more because of everything the characters went through. Coincidentally, Empire Strikes Back is also my favorite of the trilogy, so I do understand his thinking on happy endings.
I had a blast getting a glimpse into the minds of Amie Kaufman and Jay Kristoff! I'm currently reading/listening to Illuminae, and I have to say for someone who reads as much as I do it's refreshing to get a story in such an original format. The story is told through emails, interviews, and messaging, but there are also illustrations. I highly recommend getting a physical copy as opposed to an e-copy because of all the fabulous extras.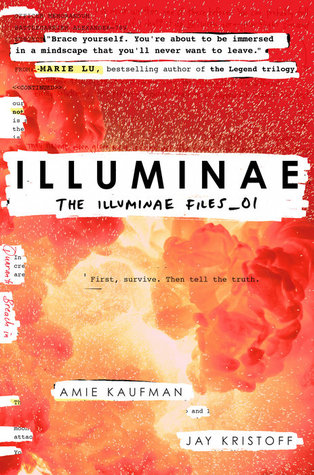 As usual when I attend an author event I like to share with our readers, so I have a SIGNED Hardcopy of Illuminae by Amie Kaufman and Jay Kristoff to give away to one Readers Den follower. The giveaway is open to US or CA residents only. Simply fill out the rafflecopter below for a chance to win.
a Rafflecopter giveaway