Hi all, today I get to share my review of Dumplin' by Julie Murphy as part of the Dumplin' Blog Tour, before that though here's a bit about the book.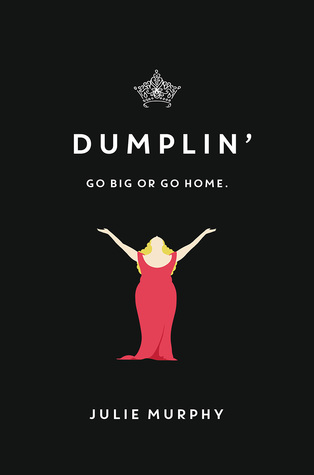 Dumplin' by Julie Murphy
Publisher:
Balzer + Bray
Publication Date:
January 28th 2016.
Willowdean Dickson lives in Texas and abides by the Dolly Parton mantra 'Find out who you are and do in on purpose'. She accepts herself for what she is – fat. But in her town The Miss Teen Blue Bonnet Pageant is a way of life and skinny and pretty are considered paramount. Although Will is comfortable in her own skin, no-one else seems to accept her for the way she is. With a group of friends who are also categorised as 'misfits' in her town, she embarks on a mission to change perceptions– entering The Miss Teen Blue Bonnet Pageant in a bid to show that she deserves to be there as much as any twiggy girl does.

Goodreads
|
Amazon
| The Book Depository
I don't know why I assumed that Dumplin' wouldn't be my sort of read, but Murphy really surprised me with this book. Willowdean isn't your typical MC, she's a big girl compared to others, but I admired the confidence and spunk that Murphy gave her character. When she found her back against the wall, I loved how she came fighting back. With the annual pageant around the corner, no one's expecting Will to enter, I don't think Will was expecting it herself, but before you know it Will and a couple of girls from school end up signing up. I liked how Will's reason for entering wasn't just to win, but just to show that she could.
Will and her friends really had a lot to deal with, but I enjoyed how this pageant actually made these girls find a friendship in the most unexpected of places, how it gave them the encouragement and belief to believe in themselves. It was a learning curve for them, but the character development which came out of it was fantastic. At the beginning of the story I thought I knew the way things would end up for Will, but I appreciated the problems that Will had to deal with along the way, her unexpected feelings for Bo, her topsy turvy relationship with her best friend and still trying to deal with the death of her aunt, because they made Will the person that she was. Like I mentioned before Will was a tough person, but the support she received in the most unlikely of places, from the girls or Bo was super sweet to watch play out.
I adored Bo, he was the moments of sweetness that Will needed when things were tough at home and confusing with her best friend. Their scenes together gave me the assurance and belief that everything was going to be okay and it was great to see Will happy. I'm not going to mention how things ended up, but Bo's continual presence in the story really made my day, like I know a lot of things were happening for Will and although I didn't agree with some of her decisions, all I wanted was for Will and Bo to be together.
Dumplin' was such a rich and complex story which really had so much to offer. I appreciated the take home messages that Murphy had scattered throughout this story, how Murphy gave such a resilient character in Willowdean that I know a lot of readers would appreciate and look up to.
About the author: Julie Murphy is a potty-mouthed Southern belle who was born in Bridgeport, Connecticut, but found her home in Fort Worth, Texas. She's never seen Star Wars, but has yet to meet a made for TV movie she didn't love. When she's not writing, Julie can be found cruising Costco for free samples, watching Sister Act 2, stalking drag queens on instagram, obsessing over the logistics of Mars One, and forever searching for the perfect slice of cheese pizza. She lives with her bearded husband, two vicious cats, and one pomeranian that can pass as a bear cub. DUMPLIN' is her second young adult novel.

The Blog Tour for Dumplin' just kicked off this week, so make sure you check out the rest of the fantastic tour stops!