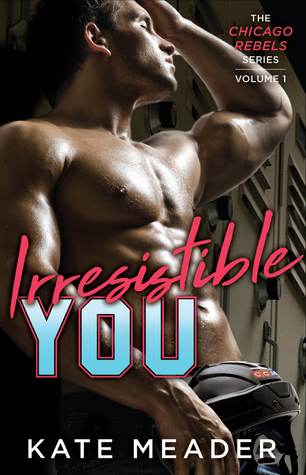 Irresistible You by Kate Meader
Publisher:
Pocket Star
Publication Date:
14th August 2017
My rating:
4 stars
Hot in Chicago series author Kate Meader returns with her all new, scorching Chicago Rebels hockey series. Three estranged sisters inherit their late father's failing hockey franchise and are forced to confront a man's world, their family's demons, and the battle-hardened ice warriors skating into their hearts. Harper Chase has just become the most powerful woman in the NHL after the death of her father Clifford Chase, maverick owner of the Chicago Rebels. But the team is a hot mess—underfunded, overweight, and close to tapping out of the league. Hell-bent on turning the luckless franchise around, Harper won't let anything stand in her way. Not her gender, not her sisters, and especially not a veteran player with an attitude problem, a chip on his shoulder, and a smoldering gaze designed to melt her ice-compacted defenses. Veteran center Remy "Jinx" DuPre is on the downside of a career that's seen him win big sponsorships, fans' hearts, and more than a few notches on his stick. Only one goal has eluded him: the Stanley Cup. Sure, he's been labeled as the unluckiest guy in the league, but with his recent streak of good play, he knows this is his year. So why the hell is he being shunted off to a failing hockey franchise run by a ball-buster in heels? And is she seriously expecting him to lead her band of misfit losers to a coveted spot in the playoffs? He'd have a better chance of leading Harper on a merry skate to his bed…
Irresistible You was a book which was put on my radar by my good friend Nick. Nick is the best when it comes to book recommendations, she's never led me astray in the past and when I found out Irresistible You featured a sports romance, I was completely sold.
I'm not the most knowledgeable person when it comes to ice hockey, I don't follow the NHL or even know the rules, but the good thing about Irresistible You is that you don't really need to be a die-hard fan, I enjoyed getting to know the players and when they were getting ready for their games. But alongside the ice hockey aspect Meader did a really great job in reeling me in with the hot romance! Remy is the Rebel's new signing, he's a legendary player and despite not being happy about this year's team switch, he knows he's stuck there. Until him and the Rebel's owner Harper come up with a deal, Remy will play his best and help the team anyway he can until January when Remy will be traded to a team with a chance of actually winning the Stanley Cup. It'll probably be Remy's last year as a pro, so of course he wants to go out with a bang and finally get his hands on the cup that he's never had. But both Harper and Remy end up with something even better than both could have imagined – each other. What starts off as a simple one night leads to off the charts chemistry! Both know that this thing between them could lead to so many problems; for the team and for their careers, but both Harper and Remy just can't get enough!
Like I mentioned before Meader excelled in giving us one hell of a romance between Remy and Harper. I enjoyed the entire build up to their relationship, but what I enjoyed most of all was the time they spent together. Yes, often the not they had to sneak around, but when they were finally together it was clear as day, that what they had was something strong. Remy was just so damn hard to resist, I don't know how Harper had the strength to stay away, he had an awesome physique, a to die for accent especially when he spoke French, he was one of the best hockey players, he was an excellent cook too, but also one of the sweetest guys. When he first began to realise the true extent of his feelings for Harper, I really was just melting inside, he would go to any lengths to do what was best for Harper. That it just made me mad at times when Harper refused to tell everyone that they were together. I could understand her reasons for it, and her reluctance, but she had this irresistible guy in Remy who would do anything for her and they were just perfect for one another!
Irresistible You was a perfect start to a fresh new series for me, I for one can't wait to get Violet and Isobel's (Harper's sisters) stories and spend more time with the Rebel's hockey team once again!