It's really hard to give up on a book, especially when it seems everyone else and their brother loved it! Anyhow, this is probably a case of "it's me not you", but these two books just didn't work for me. Like I said, most readers loved both of these books so I thought I'd pass along my copies to someone who'll probably enjoy them more than I did. Scroll down to fill in the rafflecopter for a chance to win.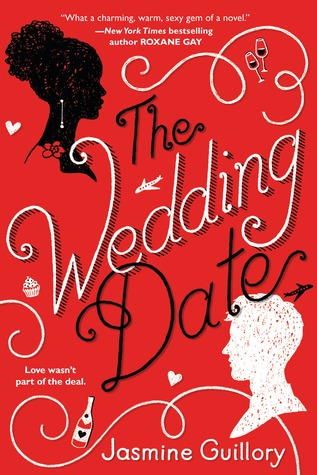 The Wedding Date by Jasmine Guillory
Publication date:
January 30th 2018
Publisher:

Berkley Books
My rating:

DNF
Amazon | B & N | Kobo
A groomsman and his last-minute guest are about to discover if a fake date can go the distance in a fun and flirty debut novel.

Agreeing to go to a wedding with a guy she gets stuck with in an elevator is something Alexa Monroe wouldn't normally do. But there's something about Drew Nichols that's too hard to resist.

On the eve of his ex's wedding festivities, Drew is minus a plus one. Until a power outage strands him with the perfect candidate for a fake girlfriend...

After Alexa and Drew have more fun than they ever thought possible, Drew has to fly back to Los Angeles and his job as a pediatric surgeon, and Alexa heads home to Berkeley, where she's the mayor's chief of staff. Too bad they can't stop thinking about the other...

They're just two high-powered professionals on a collision course toward the long distance dating disaster of the century--or closing the gap between what they think they need and what they truly want...
DNF @38%.
I had a hard time buying into this romance, because I didn't feel any chemistry between Alexa and Drew.
Also, Alexa's lack of self-confidence was disappointing.
I didn't feel engaged enough to continue.
Next Year in Havana by Chanel Cleeton
Publication date:
February 6th 2018
Publisher:

Berkley Books
My rating:

DNF
Amazon
|
B & N
|
Kobo
After the death of her beloved grandmother, a Cuban-American woman travels to Havana, where she discovers the roots of her identity--and unearths a family secret hidden since the revolution...

Havana, 1958. The daughter of a sugar baron, nineteen-year-old Elisa Perez is part of Cuba's high society, where she is largely sheltered from the country's growing political unrest--until she embarks on a clandestine affair with a passionate revolutionary...

Miami, 2017. Freelance writer Marisol Ferrera grew up hearing romantic stories of Cuba from her late grandmother Elisa, who was forced to flee with her family during the revolution. Elisa's last wish was for Marisol to scatter her ashes in the country of her birth.

Arriving in Havana, Marisol comes face-to-face with the contrast of Cuba's tropical, timeless beauty and its perilous political climate. When more family history comes to light and Marisol finds herself attracted to a man with secrets of his own, she'll need the lessons of her grandmother's past to help her understand the true meaning of courage.
My Thoughts:
I loved Chanel Cleeton's Wild Aces series, but this was nothing like it. That was fine, but this just had such a slow start, I was really bored out of my mind.
I ended up skimming a large portion.
I just wasn't in the mood for the tragic historical romance that takes up much of the story.
The giveaway is for a Paperback copy of The Wedding Date by Jasmin Guillory (my ARC copy) and a Paperback Copy of Next Year in Havana by Chanel Cleeton. The giveaway is open to US residents only. Good luck!
a Rafflecopter giveaway