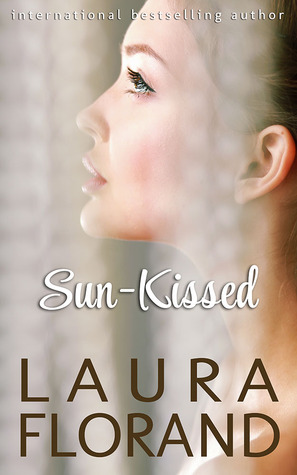 Sun Kissed (Snow Queen #2) by Laura Florand
Publication date:
May 20th 2014
My rating:
4.5 stars
Amazon | Barnes & Noble | Kobo

They called her the Ice Queen.

Anne Winters. Self-made billionaire. Household name. Divorced single mom. Convicted felon. She didn't let anyone or anything get to her. No one was allowed to breach the walls around her heart except for her own son. She had only one trusted friend: her vacation house neighbor. They'd been walking the beach together for twenty years. Not that this gave him access to her heart, of course…

They called him a man who got what he wanted.

Mack Corey. Self-made billionaire. Dominant world player. Widowed father of the bride. No felony convictions yet, although his daughters had come close. He'd transformed his family company into one of the top 500 by the age of thirty. He'd raised two daughters who dumped him for idiot arrogant French chocolatiers and went off to live in Paris. Hell, he even managed to tolerate his dad. But that Ice Queen act Anne Winters had going was really starting to get to him…

They'd been friends for twenty years. Could they become lovers?

Could a frozen heart be kissed by the sun?
Sun-Kissed
was another heartfelt, beautiful romance by Laura Florand, and as usual, I was awed by her writing talents. She makes you feel so profoundly with her words that I always come away from her stories moved emotionally.
I swear, every time I read one of her books I'm tearing up at least once because I'm overcome by feelings.
Mack Corey is a character I've met through his daughter's, Cade and Jaime's, stories.
He's a fifty-three year old widower, but also the owner of Cory Chocolates, the monster chocolate company worth billions. With both his daughters marrying and moving to Paris, he feels a little bit off kilter and unnecessary.
Yet, he has Anne Winters at his back.
They've seen each other through the best of times and the worst, and Mack is finally ready to make a move on her, no longer worrying that it may ruin their friendship. Breaking down Anne's walls will definitely be a challenge, because they don't call her the Ice Queen for nothing. Fortunately, Mack's not afraid of a challenge; in fact it ignites some fires and spurs him on!
"I don't know if I've told you this in the past twenty years, but since you're already at the point you're ready to knee me in the groin, I might as well go for it.
You're hot, Anne."
Anne Winters is sort of a younger version of Martha Stewart, with the same icy, perfectionist reputation as well.
She survived a failed marriage, became a single mother, and still managed to create a multi-million dollar business. Anne's come to rely on Mack and his friendship over the years, because he's always been there for her.
She is shocked at his sudden advances, but also very thrilled!
I wouldn't have guessed that we'd get a story for Mack because it's not often you find a romance between fifty-somethings these days. Now before you start thinking that fifty is old, let me give you a few examples of how sexy a fifty year-old can be:
George Clooney
is fifty-three (thanks,
Andrea @The Bookish Babe
for that example), and oh my, does he ever exude male sexiness!
Dana Delany
is fifty-eight!! I still can't believe it, but I've always thought she was beautiful and classy. Anyways, I could go on and on, but you get the picture. Fifty is the new thirty, lol.
Plus, with that age comes the knowledge of what you want, what works for you, and the confidence to go for it.
One of my favorite types of romances is friends to lovers, so seeing Mack and Anne's enduring friendship shift into a steamy romance was very gratifying. And it was such wicked fun! I loved Mack's boldness, and Anne's stunned reactions.
Mack was something else! Yum!
"Told you that you'd run," he said, with that glittering challenge in his eyes. "Of course, the problem with running is that then somebody can catch you."
I feel like Sun-Kissed was partially a reward for loyal readers, giving us a glimpse into the continued HEA of other beloved couples. Jaime and Dominique's wedding was the primary setting for this story, and I felt like I was a guest as well, overflowing with happiness for these two, and yes, of course I cried.
Sun-Kissed is a must-read for all fans of Laura Florand, or any romance junkie out there. Her prose is gorgeous and always manages to touch me profoundly. Plus, they're utterly HOT!! If you haven't taken the opportunity to pick up one of her stories you are missing out. Seriously, do something about it!
(Click on cover for Goodreads link)
Amou

r

et Chocolate Series:
(Click on cover for Goodreads

link

)
About the author: Laura Florand is the international bestselling author of the Amour et Chocolat series (The Chocolate Thief, The Chocolate Kiss, etc). Her books have been translated into seven languages, received the RT Seal of Excellence and starred reviews from Publishers Weekly, and been recommended by NPR, USA Today, and The Wall Street Journal, among others. Four of her past five books have been recommended reads by Dear Author and two have been Sizzling Book Club Picks by Smart B*, Trashy Books.
Laura was born in a small town in Georgia, but the travel bug bit her early. After a Fulbright year in Tahiti, a semester in Spain, and backpacking in New Zealand and Greece, she ended up living in Paris, where she met and married her own handsome Frenchman. You can find out quite a bit more about those crazy adventures in her memoir,
Blame It on Paris
. She is now a lecturer in Romance Studies at Duke University. Contrary to popular opinion, that means she studies and teaches French language and culture, rather than romance. Fortunately, French culture includes French chocolate, research to which she is very dedicated. You can catch some glimpses of that research in the books, on her blog, and on
her Facebook site
, where you are welcome to join her and other readers!
Connect with Laura Florand: