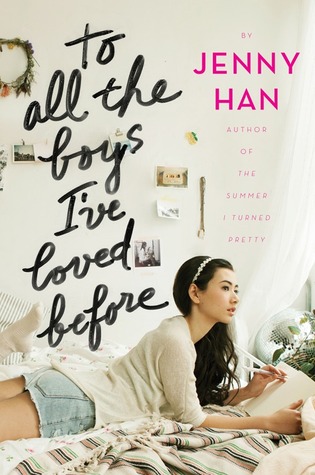 To All the Boys I've Loved Before by Jenny Han
Publisher:
Simon & Schuster
Publication date:
April 15th 2014
My rating:
5 stars
To All the Boys I've Loved Before is the story of Lara Jean, who has never openly admitted her crushes, but instead wrote each boy a letter about how she felt, sealed it, and hid it in a box under her bed. But one day Lara Jean discovers that somehow her secret box of letters has been mailed, causing all her crushes from her past to confront her about the letters: her first kiss, the boy from summer camp, even her sister's ex-boyfriend, Josh. As she learns to deal with her past loves face to face, Lara Jean discovers that something good may come out of these letters after all.
Jenny Han has never let me down with her books, she has the knack of lifting my mood when I'm feeling low and have me grinning away like a fool. With the slump I had been going through, I really should have picked up my copy of All the Boys I've Loved Before as soon as it arrived, but I decided to trudge through my pile instead. But when having the week from hell literally, I couldn't resist any longer. And honestly it was just what I needed, I found myself flying through the pages, with all the stresses around me forgotten.
To All the Boys I've Loved Before was perfect in every way, Han captured perfectly how it would feel like to have all your previous crushes know exactly how you felt like. Lara-Jean was lucky her list only consisted of five guys, as I knew that mine would be so long. But I loved seeing Laura-Jean cope with it all, and despite it being a humiliating time for her, for everything coming out in the open. I adored Lara-Jean. She wasn't the most confident person (she reminded me of myself at times); she was always in the shadow of her sister Margot and was scared to admit her true feelings at times. So Margot leaving for Scotland and was a good thing for Lara-Jean too, it allowed her to take more responsibility over her younger sister Kitty and around the house and actually do more things she wouldn't have. And to be honest I wasn't really a true fan of Margot's character.
But with the letters being sent out to her crushes, I loved that she got to know one person in particular (highlight to view spoiler).
Peter.
And yes it wasn't under the best circumstances, but I adored that what started off as a not so great relationship was able to develop into something so sweet. The small gestures of fluffing of Lara-Jean's hair, as it looked better, arriving late just so that he could get her donuts and even spending time with his friends, really left a great impression with me. Okay he did at times mess up too, but I loved how when things didn't go his way, he was quite miffed about it and showed it. This more than anything showed that he did care more than he was letting on. And I truly did end up falling for this character.
There were also many other wonderful characters that Han created such as Kitty, Josh and Chris. I really thought that Kitty would be a brat, she was only so little, and would throw a strop over the smallest thing when it came to Lara-Jean, but I loved watching her grow and mature and even take Lara-Jean's side on occasions. Also she was quick to bring a smile to my face in many scenes. Josh was the perfect boy next door. It was just a shame things happened at the time they did, I really do think this was partly down to Lara-Jean changing the subject when something vital was going to happen, like declare their feelings for her or kiss her, and this is the only thing about her that had me miffed. But at the end of the day, I think what she ended up getting instead was way better. But I did enjoy the part that Josh played in the Song sister's lives.
Han created a wonderful novel here which centres around family, with having two sisters myself, I loved watching the family dynamics between the Song family, how different and unique each sister was, how they could quarrel over small things, but also be there for each other when it mattered the most. I really did adore the Song family and can't wait to be back with them once more in book two. To All the Boys I've Loved Before really was a wonderful read, it was funny, had smart witty characters, (one who made me swoon) and had some achy beautiful scenes along the way too, and for sure will be one of my favourite reads of this year.
My sister's decided it was fun to write a list of All the Boys I loved Before;
1. Brad Friedel, (I never in my life had a crush on him, I respected him as a incredible goal keeper, but my sister and cousin never let me live this story down)
5. Fitzgerald Thomas Grant III.