Hi everyone, today for the Kissing in America Blog Tour by Margo Rabb, hosted by The Fantastic Flying Book Club, I get to share my review of this surprising read, but first here's a little about the book.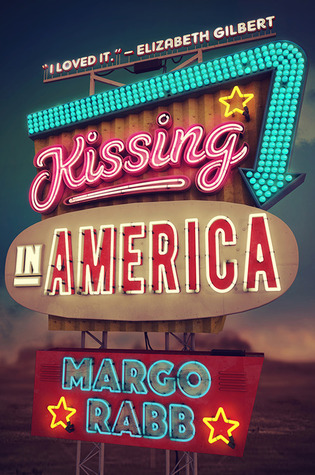 Publisher:
HarperTeen
Publication Date:
May 26th 2015
My rating:
3 stars.
I loved romances because when you opened the first page, you knew the story would end well. Your heart wouldn't be broken. I loved that security, that guaranteed love. In real life, you never knew the ending. I hated that. Sixteen-year-old Eva has never been in love. But when she meets Will, everything changes. With him, her grief over her father's death fades, and she can escape from her difficult relationship with her mother. Then, without any warning, Will picks up and moves to California. So Eva—with the help of her best friend, Annie—concocts a plan to travel across the country to see him again. As they leave New York City for the first time and road-trip across America, they encounter cowboys, kudzu, and tiny towns without stoplights. Along the way, Eva and Annie learn the truth about love and all its complexities.

Goodreads
|
Amazon
|
The Book Depository
Kissing in America started off as a really bumpy read for me. Eva wasn't the easiest MC to connect to, but as the book progressed I certainly got to know her character that much more and understand why she did the things she did (most often the way things happened wasn't really her fault and with the way things were with her mother I could kind of understand why Eva wanted to do the things she wanted, if I was in Eva's shoes, I think I very much would have felt the same way). Eva ends up falling hard and fast for Will, and when it looks like Will could be feeling the same way, things are looking up for Eva, but then Will drops the biggest bombshell out of the blue, that he's moving to California to be with his dad, Eva is distraught, because she really thought Will was the one, but then when a chance opportunity comes Eva's way and she has the chance to meet Will sooner than expected Eva knows this is a chance that she has to take, even if she knows she has to convince her best friend of going with her and her mother for the chance to go.
Eva's trip to California was certainly one I wasn't expecting, I did expect a few road bumps along the way, but not the quirky characters that we got stuck with and the awful dilemma's that Eva had to deal with. But despite the situations Eva found herself in, I think this road trip was exactly what Eva needed in order to find herself. Yes her mum's over protectiveness still continued to follow her the further she went, and although her mum did have her best interests at heart, I think things could have been much easier for both Eva and her mum and their relationship if Eva's mum actually consulted Eva with the decisions she made, yes things hadn't been the best for both of them over the last few years and with continual discoveries being made things were only going to get tougher for them both. But if they decided to work as a team and rather than not discussing things with each other a lot more progress could have been made and may be the comfort that both characters needed from each other could have been found a lot more sooner. That's why my only real gripe about this book; Eva's mother is a character who is really difficult to like. Other than that I really sort of liked this book. There were some unexpected twists and turns along the way which I so didn't see coming and sort of wish didn't happen (my poor heart really went out to some characters). But I liked the way Rabb dealt with Eva's journey of dealing with the grief of her father and making the most out of the important relationships in her life.
For the chance to win a souvenir from each city visited in the book, visit here. Full rules and conditions of giveaway can be found here. Good luck,
ABOUT THE AUTHOR: Margo Rabb's stories have been published in The Atlantic Monthly, Zoetrope: All Story, Seventeen, Best New American Voices, New Stories from the South, New England Review, One Story, and elsewhere, and have been broadcast on National Public Radio. She received grand prize in the Zoetrope short story contest, first prize in The Atlantic Monthly fiction contest, first prize in the American Fiction contest, and a PEN Syndicated Fiction Project Award. She grew up in Queens, New York, and now lives in Austin, Texas with her husband and two children. A complete list of her published work can be found here.