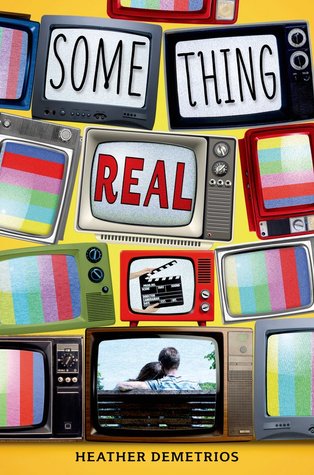 Something Real by Heather Demetrios
Publisher:
Henry Holt BYR
Publication Date:
February 4th 2014
My rating:
4 stars.
There's nothing real about reality TV. Seventeen-year-old Bonnie™ Baker has grown up on TV—she and her twelve siblings are the stars of one-time hit reality show Baker's Dozen. Since the show's cancellation and the scandal surrounding it, Bonnie™ has tried to live a normal life, under the radar and out of the spotlight. But it's about to fall apart…because Baker's Dozen is going back on the air. Bonnie™'s mom and the show's producers won't let her quit and soon the life she has so carefully built for herself, with real friends (and maybe even a real boyfriend), is in danger of being destroyed by the show. Bonnie™ needs to do something drastic if her life is ever going to be her own—even if it means being more exposed than ever before.
I am what you could say a reality TV addict, I could sit there for all the whole day just watching back to back episodes of a TV programme and the same can be said for books which have reality stars as their subject. I love getting to know these characters and how things have worked out for them with the TV show. The last book I read based on this was Jennifer's Castle You Look Different in Real Life and it was one which I loved, now I don't know why I took so long in picking up Something Real, because it was a story I ended up adoring.
Chloe Baker has finally got a life of her own, she had been a reality TV star with her 12 siblings and family for as long as she can remember. Having a camera following you around for nearly every second of your life doesn't always have its perks, it really sort of wrecked things for Chloe, that when her family finally decided to give it up, it really was the best thing she could have asked for, as it very nearly ended up wrecking her life and destroying her family. So when MetaReel turns up out of the blue four years later to film Chloe's family once more, Chloe can't believe it. If I was in Chloe's shoes, I would have felt exactly the same way, Chloe was just about getting on track with everything, she had even changed her name to get away from it all, so does she really want everyone to get back up in her business again?. And Chloe's mum was the worst, okay she had a big household to look after and feed, but she was just the most inconsiderate mother I've come across in a while. I know she wanted to make Baker's Dozen the best show ever, but did she have to restort to playing up for the cameras? And not listening to a thing Chloe wanted? She really made me rage in this entire book, Chloe's dad wasn't the greatest person either, but with Chloe's mother it seemed like she didn't give a crap about anybody, as long as the ratings of the show were good. Chloe had so much to deal with, keeping everything under wraps from her friends before the show went live, trying to keep her panic attacks in check and when it finally seemed like her crush Patrick Sheldon may be liking her back, MetaReel and her cameras were all up in Chloe's face.
Patrick Sheldon definitely ended up as one of my favourite fictional crushes, he was everything that I would love in a guy in real life. He was the sweetest guy ever, always looking out for Chloe, he knew the stress she had to deal with, but was still willing to make a go of their relationship, despite knowing their faces would be plastered all over the press and their every step would be heavily scrutinised. Which guy would want to be under this constant pressure? Some of his lines just made me swoon and his sweet gestures easily left a big smile on my face. All I know is that this book has so made me want my own Patrick Sheldon!
Family paid an integral part to this story, and I'm glad Chloe did have some members of the family that she could turn to when things got tough for her. Benton was the best brother that anyone could ask for, he was there for Chloe when she needed cheering up and was willing to take her side when people like her mother didn't. I also loved how Benton just could brighten up an entire scene with his charm and goofy ways. I also appreciated that Chloe was able to forge some stronger relationships with some of her other siblings too. Things could be rocky at times for Chloe and one particular sibling, but I'm glad that through the stress of everything this one was able to come through for her. As Chloe, really did need all the support from her friends and family that were willing to listen.
Something Real was definitely a book which I'm so glad that I picked up, it dealt with a lot of serious issues, but Demetrios was able to weave in some pleasant lighter moments too and some swoony scenes with my Patrick which I hugely appreciated. Demetrios has certainly made me want to read the rest of her books right away.