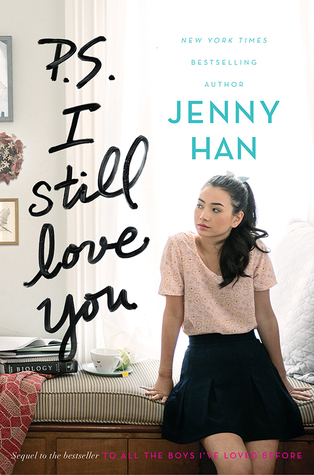 P.S I Still Love You by Jenny Han
Publisher:
Simon & Schuster Books for Younger Readers
Publication Date:
May 26th 2015
My rating:
4 stars
Lara Jean didn't expect to really fall for Peter. She and Peter were just pretending. Except suddenly they weren't. Now Lara Jean is more confused than ever. When another boy from her past returns to her life, Lara Jean's feelings for him return too. Can a girl be in love with two boys at once?

I was thrilled when my copy of P.S. I Still Love You arrived early, as it was one of my highly anticipated reads of the year, I fell in love with the characters and Lara Jean's story that Han's created in To All the Boy's I've Loved Before. Also with so many questions I needed answering I couldn't wait to be back with these characters once more.
I was dreading that things would not go the way that I'd hoped they would, but I was glad to get loads of Peter very early on, I was team Peter in To All the Boy's I've Loved Before and I had high hopes that Lara Jean and Peter would end up together in this one, Peter of course was his usual self, he was the charmer, but we also got to see a more of a vulnerable side to him at times, that I just didn't want him to get hurt at all. But most of all I adored the lovable side that came through, how he was concerned about Lara Jean, and promised that things would be okay. At times he did slip up, but Peter was just the sort of guy that I could forgive in instances like these and of course I was so scared that things could go wrong that I wanted to keep Peter and Lara Jean together no matter what. Their relationship was a topsy -turvy one with Han hitting you with all the feels left right and centre, but it was one that I didn't mind going through some of the heartache that I had to experience as this relationship was one of the best relationships I have come across. (highlight to view spoiler).
However I have to admit that I did find myself slightly wavering with the introduction of this new character, things with Peter and Lara Jean could be super bumpy at times and then you had John Ambrose McLaren come along who actually got Lara Jean and had her back. I loved their games of Assassins; honestly John Ambrose McLaren was totally adorable! I knew however things ended it wasn't fair how it would end for one of these guys. Although in my heart of hearts I wanted Peter and Lara Jean to be together, I didn't want John Ambrose McLaren to get hurt in the process either.
I really like the growth that Lara Jean went through in this book, yes she was her usual inquisitive self, but she actually put her foot down when it came down to things that mattered to her. And I was appreciative of this, because even though it did cause some heartache, at least Lara Jean learnt when things when things became too much for her. Of course I loved the strong family vibes that came through this book once more, Lara Jean's family was an absolute delight to be around, and I think Kitty also really came through for me in this book. I don't think I really connected with her in the first book, but this time around I enjoyed her words of wisdom that she threw about and how she could brighten up a scene with her comments, it's really hard to believe that she's so young, as she too really came across as a mature character.
Although I didn't end up loving P.S. I Still Love You as much as To All the Boy's I've Loved Before, this is a story that I would still highly recommend. Han has created characters that you will fall in love with and never want to let go. They are characters that will totally make your day when you need a quick pick me up. However I do recommend doing a lot of baking before picking this book up, as I was totally starving at the end of this with all the baking Lara Jean did!