Hi all, today I'm thrilled to be taking in The Most Likely to Succeed Blog Tour hosted by The Fantastic Flying Book Club. I have become a fast fan of this series by Jennifer Echols so far, so was delighted to be with this fantastic set of characters once again. Before I share my review here's a bit about the book.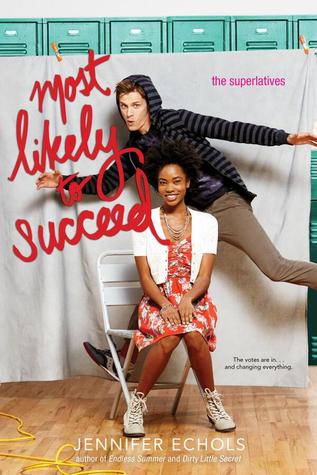 Most Likely to Succeed (Superlatives #3) by Jennifer Echols
Publisher:
Simon Pulse
Publication Date:
August 4th 2015.
In this sexy conclusion to The Superlatives trilogy from Endless Summer author Jennifer Echols, Sawyer and Kaye might just be perfect for each other—if only they could admit it. As vice president of Student Council, Kaye knows the importance of keeping order. Not only in school, but in her personal life. Which is why she and her boyfriend, Aidan, already have their lives mapped out: attend Columbia University together, pursue banking careers, and eventually get married. Everything Kaye has accomplished in high school—student government, cheerleading, stellar grades—has been in preparation for that future. To his entire class, Sawyer is an irreverent bad boy. His antics on the field as school mascot and his love of partying have earned him total slacker status. But while he and Kaye appear to be opposites on every level, fate—and their friends—keep conspiring to throw them together. Perhaps the seniors see the simmering attraction Kaye and Sawyer are unwilling to acknowledge to themselves… As the year unfolds, Kaye begins to realize her ideal life is not what she thought. And Sawyer decides it's finally time to let down the facade and show everyone who he really is. Is a relationship between them most likely to succeed—or will it be their favorite mistake?

Goodreads
|
Amazon
|
Barnes & Noble
The Superlatives series by Echols is one of my favourite series yet, in the two previous books Echols has created endearing characters which have been hard not to fall for, I love how each book so far has focused on one couple, but still kept the secondary characters an integral part of the story. Sawyer was the class clown, always goofing off or getting on people's nerves, but on occasion he was known to show a softer side and this was one side that I couldn't wait to see more of in Most Likely to Succeed.
Sawyer had had his eyes on Kaye for the last two years, although he was found messing around with a different girl so often, it was clear to tell that around Kaye he was a totally different person, he could be sincere, considerate and most of all he was completely vulnerable. It was strange seeing him like this as before I'd never taken him seriously, but I loved how with this book we got to know the real Sawyer underneath the pelican costume a whole lot more. Kaye like her friend Harper found herself in the situation where things weren't really working out with her boyfriend and she was sort of getting conflicted feelings about somebody else. Like Harper's ex Kennedy, Kaye's boyfriend Aidan was a right piece of work, he liked to have control and dominate most situations as he was class president. It was awful how he felt he could say whatever he wanted to Kaye. Boyfriends are meant to be supportive, cheer you up when you've had a crap day and just be your pillar of support, Aidan was neither of these things and so I really couldn't wait for Kaye to stand up to him and end things with him. Kaye could do so much better, and although she didn't know where she stood with Sawyer, I wanted her to find out.
Sawyer and Kaye's relationships wasn't one of the easiest ones, there was a lot of hot and cold signs, parents getting involved when they didn't need to and Sawyer of course was a totally different person when he was dressed as the mascot pelican and when he was being himself. I couldn't understand how Sawyer and Kaye's feelings were genuine for one another, but they were just scared about wrecking things. In some of the sweet scenes we got to see between them, it was obvious they were made for one another, I wish so much crap and miscommunication didn't have to get in the way. Sawyer had so much of his own stuff to deal with in this book, and so I could understand why he was scared about getting his heart trampled on.
Family once again played a big part in this book and it was one aspect I truly appreciated. Kaye had such a great family, yes her mother could be a little over bearing at times, but she only wanted what was best for her daughter, she wanted to give her the best life possible, something which she really had to fight for when she was younger. I loved how Kaye's parents always balanced each other out, how Kaye's mum would get vexed in a instant and her dad would help her simmer down, even though there was a lot of tension whenever Kaye's family popped up in a scene, you knew it would never be a dull moment!
Alongside the family aspect, I was grateful to be back again with the great set of characters that Echols had introduced to us in the previous books, especially my favourite Brody. All six characters: Sawyer, Kaye, Harper, Brody, Tia and Will had such great personalities that they were characters that could cheer you up in no time, they were certainly friends that I wish I had by my side when I was in high school, it actually makes me kind of sad that this will be the last that we will see of them! *cries* (just a hint Jennifer, I would totally read a book following these wonderful characters to college if you wanted to go there)
Most Likely to Succeed was another fantastic instalment for the amazing Superlative series. I loved the character growth that Echols showed in this series, but most of all the wonderful relationships amongst friends and family that Echols was able to explore. I never usually end up liking all the books in a series, but I have loved every single book in this series, so honestly I can't recommend this series highly enough!
GIVEAWAY:
Win ALL three books in the Superlatives series by Jennifer Echols (Biggest Flirts, Perfect Couple and Most Likely To Succeed) [US Only]
a Rafflecopter giveaway
ABOUT THE AUTHOR: Jennifer Echols was born in Atlanta and grew up in a small town on a beautiful lake in Alabama—a setting that has inspired many of her books. She has written nine romantic novels for young adults, including the comedy MAJOR CRUSH, which won the National Readers' Choice Award, and the drama GOING TOO FAR, which was a finalist in the RITA, the National Readers' Choice Award, and the Book Buyer's Best, and was nominated by the American Library Association as a Best Book for Young Adults. Simon & Schuster will debut her adult romance novels in 2013, with many more teen novels scheduled for the next few years. She lives in Birmingham with her husband and her son.
Website
|
Goodreads
|
Blog
|
Twitter
|
Facebook