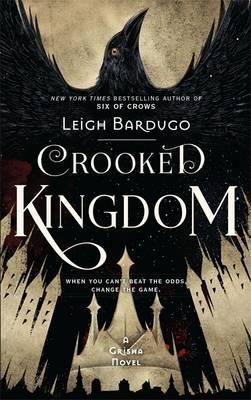 Crooked Kingdom (Six of Crows #2)
Publisher:
Orion Children's Books.
Publication Date:
27th September 2016
My rating:
4 stars.
Kaz Brekker and his crew have just pulled off the most daring heist imaginable. But instead of divvying up a fat reward, they're fighting for their lives. Double-crossed and badly weakened, they're low on resources, allies and hope. While a war rages on the city's streets, the team's fragile loyalties are stretched to breaking point. Kaz and his crew will have to make sure they're on the winning side... no matter what the cost.
Six of Crows was one of those books that I thoroughly enjoyed; Bardugo weaved a wonderful and complex world with a fantastic set of characters. I actually didn't even mind the multiple perspectives which is usually a big no no for me and of course I became quickly attached to a few characters in particular that I couldn't wait to see what would be waiting for them in Crooked Kingdom. And once again Bardugo totally upped her game with this book, honestly the schemes she came up with I had a hard time grasping my head around at times, how she came up with these wonderful ideas was truly beyond me. I once again totally enjoyed how each character had their own personal issue going on, but at the end of the day their business still came down to the biggest concern at hand: Jan Van Eck. Honestly this guy, for some reason he really came across as not the most intelligent guy on the block, of course if you're going up against Dirtyhands Kaz Brekker it would come across that way, but then out of nowhere Van Eck would just up the ante and Kaz would find himself right back where he started, he was one of those characters that you really couldn't underestimate. But I really admire Kaz and his determination when it really seemed like his back was against the wall, he would pull out this epic idea which would leave me reeling, seriously I loved Kaz to death, but in Crooked Kingdom he really went onto show why he is one of my all time favourite characters.
Once again I loved being back with such a fantastic set of characters, but this time around I found myself looking forward to reading chapters from particular characters, don't get me wrong I did enjoy reading the perspectives from everyone, but two characters in particular really held a big place in my heart that of course I couldn't wait to gobble their chapters up. Bardugo really cemented this series as one of my all time favourites. I especially enjoyed the witty scenes littered amongst the tense and stressful ones, but also the cross references to her Grisha series (so much that I wanted to start a re-read as soon as I'd finished.) My only disappointments were that I wanted a lot more when it came to two certain characters, I did appreciate the progress that was made between them and understood the steps taken were hugely massive to both of them, but just a smidge more with them and I would have been the happiest girl alive. Also I so didn't expect my heart to get all trampled upon, there's only so much one can take when you form such a close attachment to such wonderful characters so that turn of events was totally unexpected. These misgivings aside Crooked Kingdom was a book I thoroughly enjoyed, I don't know why I assumed that this series was going to be longer than a duology, so at the end of this book I was quite sad about having to say goodbye to such a wonderful world and unforgettable characters that found their way to my heart!