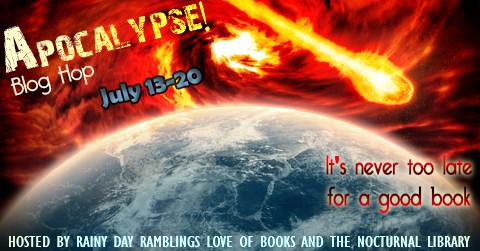 Hi everyone! Today as part of the Apocalypse Blog Hop hosted by Heidi @ Rainy Day Ramblings, Christy @ Love of Books and Maja @ The Nocturnal Library Rachel and I get to share our love with you guys of one of our favourite post-apocalyptic reads: The 5th Wave by Rick Yancey. This book has been only out for two months and it is already causing up a storm and honestly it has every right to. Rachel and I normally don't read a lot of post-apocalyptic books, but when we had to decide which book we were going to spotlight for this hop we had no problem in deciding which book it would be. Rachel shared her enthusiastic review with you guys a few months back on the blog, you can read her review here and today I will be sharing my review with you!
The Fifth Wave by Rick Yancey
Publisher:
Penguin Books (UK)
Publication date:
May 7th 2013
My rating:
5 stars
After the 1st wave, only darkness remains. After the 2nd, only the lucky escape. And after the 3rd, only the unlucky survive. After the 4th wave, only one rule applies: trust no one. Now, it's the dawn of the 5th wave, and on a lonely stretch of highway, Cassie runs from Them. The beings who only look human, who roam the countryside killing anyone they see. Who have scattered Earth's last survivors. To stay alone is to stay alive, Cassie believes, until she meets Evan Walker. Beguiling and mysterious, Evan Walker may be Cassie's only hope for rescuing her brother—or even saving herself. But Cassie must choose: between trust and despair, between defiance and surrender, between life and death. To give up or to get up.
I'm always a little wary about picking up a book which has been receiving incredible reviews and ratings (an average of 4.5 from my Goodreads friends.) in the last few weeks. But especially more so when it's for a book I wouldn't typically read. But I admit when I heard the word aliens I was intrigued. I had my fingers crossed that I would love The 5th Wave as much as everyone else too. I'm pleased to say The 5th Wave did not in any way disappoint. The concept of billions of people being wiped away from the world because of an alien invasion was a brilliant idea and Yancey managed to pull it off incredibly. So far there had been four Waves in total which had demolished everything. If you were one of the last surviving individuals you were either taken away (depending on your age) to camp or left on your own. The latter situation is how our protagonist Cassie finds herself, she's lost everything except her brother whose been taken away, but she'd promised she would come back for. It's become a dark and dangerous world out there with you not knowing who you can trust (is the person you're talking to even human?). So just watching Cassie at just 17 years old toughing it was just incredible.
The story was given to us through multiple narratives, usually this can be really confusing, but Yancey managed to make it work well together. With the narratives I enjoyed getting into the heads of the different characters and learning about what led them to where they were in the first place. Ben and Evan were definitely two characters I enjoyed being around, one was always straight forward so you knew what you were getting from him, where as the other was such a tangled web, but I still ended up falling for him more. I had my doubts about this character throughout the story, but didn't want my doubts to be confirmed either, but by the end this sweet guy just crumbled my heart. I think as I was drawn to his enigmatic character so much, all I wanted to do was get his story. Like I said I really enjoyed reading from the different narratives, but once I came to the end of Cassie's I was tempted to skip ahead just so that I could go back to their story again. Parts of their story were scary as I didn't know what to expect, but then the sweeter scenes definitely topped it and won me over.
The solid characters and their character development over the course of the book definitely made The 5th Wave a wonderful read for me. Evan, Ben and Cassie were such strong characters, but there was also a bunch of extremely memorable secondary characters too. Books which have characters which weave their way to your heart that they easily become favourites, this is exactly what Yancey was able to do. I found myself fully invested in each and every character until the very end.
So much has already been said about the incredible world that Yancey has created in The 5th Wave; it's dangerous, dark and scary but most of all it appeared so realistic. I could totally imagine this happening to our world and us humans having no clue of how to react and who to trust. The self-doubt that Yancey was easily able to create amongst these characters was unbelievable. One minute you could be fine, and the next you were doing Dorothy. I was utterly surprised by some of the outcomes of this story, I just loved how through it's entirely it kept me on the edge of my seat.
It's already been endlessly said but honestly guys The 5th Wave is not one book to be missed this year. It's gritty, so realistic and has a great story of individuals set on their own paths, but being ultimately connected in some way in the end.
And if that review wasn't enough to convince you to give this book a try, here are a few fun reasons why we love this book so much!

Favourite character:

Rachel

: That's easy! Cassie, of course. She is a survivor and yet she feels like just a normal girl. She makes you feel a regular girl could survive these horrific events intact. Jasprit:

I have to agree with Rachel, Cassie was a wonderful character, she's strong with everything crumbling around her and actually risks putting her trust in other people when it's such a difficult time to do so. I extremely looked forward to Cassie's pov in this book. And of course there was another character who I won't be mentioning here, but he certainly stole my heart in this book!

Which wave would do you think you could survive up to?

Rachel:

Oh, I'd love to say all of them, but with my luck I'd be gone with the first Wave coming down with the plague like most others!

Jasprit:

I like to think that I'm a strong person, but I don't know if I'd have it in me to do the things necessary in order to survive. I think with my sister alongside me, we could be a solid team, but on my own I'd probably go down with the first wave.


Favourite quote?

Rachel:

I don't have a copy anymore because I gave it away on the blog, but I was looking back on Goodreads where I often post quotes for my status updates and I remember having a laugh over this: "In case you're an alien and you're reading this: BITE ME."

It was Cassie writing in her journal if I remember correctly. I also had this swoony bit (you know I had to include one!):

"Holding my hand against his chest, his other hand sliding across my neck, his touch feathery soft, sending a shiver that travels down my spine into my legs, which are having a hard time keeping me upright."

Jasprit:

"What are you doing? Oh, that's right. Following me, lurking in doorways. One of these days maybe you'll work up the courage to step over the threshold"




Why do you recommend everyone should read this book?

Rachel:

It's a thrill of a ride with twists and turns, aliens AND a slow-build romance!

Jasprit: The 5th Wave is a book I would never have considered if it hadn't been for the recommendations from my blogging friends. And I'm so grateful to them because otherwise I would have missed out on one of the most gripping reads this year. Seriously this book will have you hooked it has everything! All I can say is pick this book up!

Also you still have the chance to enter our giveaway to win a copy of The 5th Wave! The giveaway is international as long as The Book Depository ships to you!

a Rafflecopter giveaway