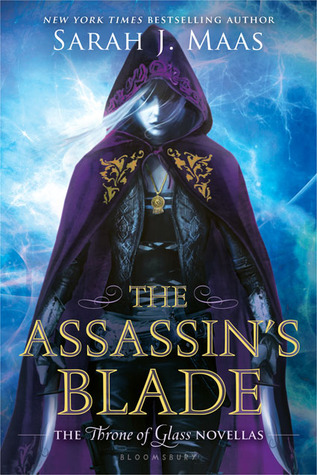 The Assassin's Blade by Sarah J. Maas
Publisher:
Bloomsbury Childrens
Publication date:
March 13th 2014
My rating:
4 stars
Celaena Sardothien owes her reputation to Arobynn Hamel. He gave her a home at the Assassins' Guild and taught her the skills she needed to survive. Arobynn's enemies stretch far and wide - from Adarlan's rooftops and its filthy dens, to remote islands and hostile deserts. Celaena is duty-bound to hunt them down. But behind her assignments lies a dark truth that will seal her fate - and cut her heart in two forever..


"I just want to be with you" he murmured. "I don't care where we go. That's all I want".
Oh my gosh my poor heart, even though I knew how things were going to end in this book, I was hoping that Maas was lying to us this entire time, that some twist of the fate would change things up. But no my heart had to go through this beautiful friendship/ relationship develop and then watch it ripped away in the most horrid way. There were five fantastic novellas in The Assassin's Blade; I'll be just sharing my thoughts on a few of them
The Assassin and the Desert
Celaena really found herself out of her comfort zone in this short story, she'd been sent to train with the silent Assassins and only until she received approval from the mute master would she be called to return to Rifthold. Celaena was put through tiring tasks and she still hadn't the chance to train with the mute master. She had limited time there, but knew she couldn't do anything to prove her worth. I was glad that Celaena was able to finally form a sort of friendship with another girl Ansel, being a deadly assassin, making friends wasn't ones top priority, but Celaena found a quick and easy comfort in Ansel's presence, she helped her accustom to the life of the silent assassin's. I did have inklings of how things would go in the story, but a lot of what happened was really unexpected. The last couple of pages really had me at the edge of my seat, but I'm grateful that this story ended with a lot of great hope for Celaena.
The Assassin and the Underworld
In this story I was really scared for Celaena to return to Rifthold, would things be exactly as they were when she left? She had no idea whether that one person in particular would be okay. But Celaena had something incredible to fall back on and I couldn't wait for her to shove it into Arobynn's face. But things didn't really plan out as I was hoping them to. I genuinely started to believe that a particular character had changed, they were being over generous, and they seemed genuinely upset by what had happened. So instead Celaena was thrown into another mission, but I'm glad she had her back covered, although Celaena was super tough, and not one to ask for help I'm grateful this one person hadn't given upon her. The Assassin and the Underworld was another story scattered with so many unexpected surprises; which made me rage, afraid but also swoon a little. Despite leaving us with a little spring in our step, it mostly left me with a lot of dread in the pit of my stomach for what could be around the corner.
The Assassin and the Empire
Even though I wanted you know how things ended, at the same time I didn't, I knew that even though all debts had been paid, you could never escape Arobynn Hamel, he was a powerful man, but also one who was never too quick to forget things. I loved seeing Celaena happy in this story; yes she hadn't fully escaped everything, but was beginning to make a life for herself. To give you fair warning this story tramples all over your heart, even with you knowing what is going to happen, it's truly heartbreaking watching a character experience so much heartache and pain when they had finally found some sort of happiness, but the worst was discovering who was behind it all and why *rage*
Overall The Assassin's Blade was a truly wonderful book, I loved how each story immediately started off from the one just before. I loved getting to know Celaena's back story that little bit more and getting more insights into her character. Also getting to know Sam, a character who we had heard so much about, but really didn't know, these stories go on to show why he meant so much to Celaena in the first place.