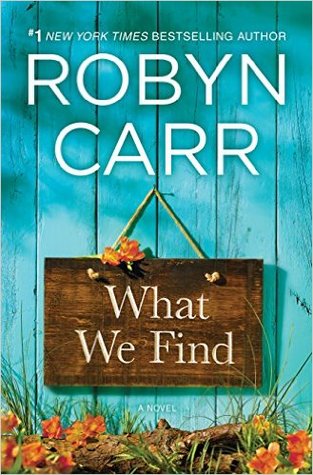 What We Find (Sullivan's Crossing #1) by Robyn Carr
Publisher:
Mira
Publication date:
April 5th 2016
My rating:
4.5 stars
Amazon | Barnes & Noble | The Book Depository | Audible
Join Robyn Carr, #1 New York Times bestselling author of the Virgin River and Thunder Point series, as she explores the healing powers of rural Colorado in a brand-new story of fresh starts, budding relationships and one woman's journey to finding the happiness she's long been missing

Between the urban bustle of Denver and the high-stress environment of a career in neurosurgery, Maggie Sullivan has hit a wall. When an emergency, high-risk procedure results in the death of a teenager, Maggie finds herself in the middle of a malpractice lawsuit—and experiencing levels of anxiety she's never faced before. It's in this desperate moment that Maggie's boyfriend decides he can't handle her emotional baggage, and she's left alone, exhausted and unsure of what her future holds. One thing is certain, though: she needs to slow down before she burns out completely, and the best place she can think to do that is Sullivan's Crossing.

Named for Maggie's great-grandfather, the land and charming general store at the crossroads of the Colorado and the Continental Divide trails have been passed down through the generations and now belong to Maggie's estranged father, Sully. Though raised by her mother and stepfather after her parents divorced, Maggie has always adored Sully—despite his hands-off approach to fatherhood. When she shows up unannounced in Sullivan's Crossing, he welcomes her with opens arms, and she relishes the opportunity to rebuild their relationship.

But when Sully has a sudden heart attack, Maggie's world is rocked once again. Consumed with his care, she's relieved to find that Cal Jones, a quiet and serious-looking camper, has been taking over many of Sully's responsibilities as he recuperates. Still, Maggie is suspicious of this mysterious man's eagerness to help—until she finds out the true reason for his deliberate isolation.

Though Cal and Maggie each struggle with loss and loneliness, the time they spend together gives Maggie hope for something brighter just on the horizon…if only they can learn to find peace and healing—and perhaps love—with each other.
Maggie Sullivan is a successful and driven neurosurgeon, but several crises have come down on her all at once.
A fraud scandal in her practice, a wrongful death suit, but the miscarriage of a baby she desperately wanted sends her reeling into grief.
Worse is the fact that instead of offering support and understanding, Maggie's longtime boyfriend is relieved over the miscarriage and feels she should snap out of her depression (jerk!). Realizing that her life isn't what she wanted sends Maggie running for the safety of her father in Sullivan's Crossing.
Sully, Maggie's father, is cantankerous and bristly, but Maggie loves him.
Before Maggie's on the road to peace, though, Sully suffers a heart attack and Maggie's occupied with helping her father recuperate.
No easy task with the stubborn man!
Fortunately, friends and neighbors pitch in to help.
Cal Jones, the good looking and mysterious camper staying at Sullivan's Crossing, steps up and helps their family with the store.
He's enticing and confusing, and Maggie is completely drawn to him.
Sullivan's Crossing is a campground, general store, and post office out where the Continental Divide Trail and the Colorado Trail intersect making it a perfect stop point to refuel for "thru hikers" tackling one of the long hikes, or perfect for campers wanting to escape for shorter trips.
There's always people staying or hiking through, and the locals who work or frequent the place make for an interesting mix of people Carr had to write about.
There was always something exciting going on from a rebellious bull stopping through to a naked hiker there were some fun times! There was also a bit of danger!
Robyn Carr brings so many of her characters to life that I loved them and hated a few!
Andrew, Maggie's ex-boyfriend was a self-centered prick! Maggie's mother was another self-centered person. I have very little respect for a parent who puts their own happiness before their child's and this is exactly what Phoebe did, and continued to do.
Tom's ex-wife, Becky was another piece of work! Leaving your husband and four children (the youngest being four years old!!) because of malcontent, and then going back when it pleases you to visit and string your kids and ex along?
That's seriously crappy, IMO.
Unfortunately, Tom is very soft-hearted towards her.
What's revealed about Becky and the way she handled herself with Cal ticked me off! I wish Cal would've given her more of a set down.
I'm hoping Tom gets his own romance and book in the future. I couldn't help but adore this man! Tom lived and worked for his children, minding his busy schedule so he was there for them every day, whether with homework or busing them around to their various commitments.
The attraction between Cal and Maggie was immediate, but their romance was a gradual process where they fell a little harder with every passing day.
They revealed and shared their past wounds slowly, the reasons each were taking down time at Sullivan's Crossing, but taking comfort from each other along the way.
Maggie had to sort through some issues with all of her parents, Sully, Phoebe, and Walter, her patient and loving stepfather.
She also needed to find out exactly what she wanted from life and decide whether she could stay in neurosurgery, as the recent events burned her out.
I was riveted by all the stories contained in
What We Find
.
Robyn Carr has a way of making small town life so appealing with a wonderful mix of kind, loving, but quirky characters.
Sullivan's Crossing felt like an actual place with Ms. Carr's vivid and beautiful descriptions of the scenery and life pulsing through there.
I'm a backpacker and sometimes camper, so Sullivan's Crossing is exactly the kind of place I'd love to visit!
I met Ms. Carr at the
2014 ALA
and at that time I hadn't read any of her books.
I wished I knew her awesomeness back then so I could've appropriately fangirled at the time! Lol!
I'm anxious to find out the release date and focus of the second book in this new series!
Until then I'll keep on going with Ms. Carr's
Virgin River
series.
I can't get enough of it!!
Connect with Robyn Carr
Robyn Carr at 2014 ALA