Bared to You by Sylvia Day
Publisher:
Penguin UK
Publication Date:
May 28th 2012
My rating:
3 stars.
Gideon Cross came into my life like lightning in the darkness... He was beautiful and brilliant, jagged and white-hot. I was drawn to him as I'd never been to anything or anyone in my life. I craved his touch like a drug, even knowing it would weaken me. I was flawed and damaged, and he opened those cracks in me so easily... Gideon knew. He had demons of his own. And we would become the mirrors that reflected each other's most private worlds...and desires. The bonds of his love transformed me, even as I prayed that the torment of our pasts didn't tear us apart...
Bared to You was a book which was really different to what I was expecting, I'd first got a copy of this book when everyone was jumping on the Fifty Shades bandwagon, but I just didn't end up picking it up. I think the mood I'm currently in (reading all of the YA and NA books possible), I read Bared to You at the perfect time. There were some similarities with previous books I'd read and some of the decisions that our characters Gideon and Eva made did at times have me rolling my eyes, but I found myself highly addicted to the story. I needed to know Eva and Gideon's respective background stories, why they were the way they were and how things would go down for them. I had my doubts at times whether they would make it as a couple, as they had to deal with so many obstacles thrown their way, but their feelings for one another, despite only knowing each other for a short period of time were believable to me. Also did I mention the scenes between Eva and Gideon were just hot! Although I had some issues with this book, this didn't stop me from pre-ordering the next four books in the series, partway through reading this. I need more Eva and Gideon asap!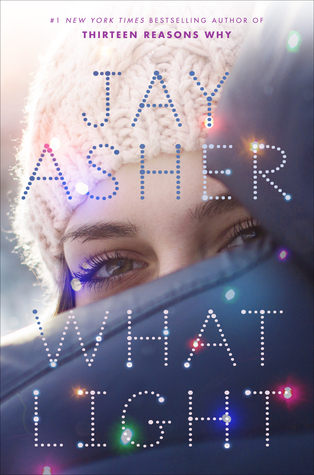 What A Light by Jay Asher
Publisher:
Razorbill
Publication Date:
October 18th 2016.
My rating:
2 stars.
Sierra's family runs a Christmas tree farm in Oregon—it's a bucolic setting for a girl to grow up in, except that every year, they pack up and move to California to set up their Christmas tree lot for the season. So Sierra lives two lives: her life in Oregon and her life at Christmas. And leaving one always means missing the other. Until this particular Christmas, when Sierra meets Caleb, and one life eclipses the other. By reputation, Caleb is not your perfect guy: years ago, he made an enormous mistake and has been paying for it ever since. But Sierra sees beyond Caleb's past and becomes determined to help him find forgiveness and, maybe, redemption. As disapproval, misconceptions, and suspicions swirl around them, Caleb and Sierra discover the one thing that transcends all else: true love. What Light is a love story that's moving and life-affirming and completely unforgettable.
I think I would have enjoyed this book a lot more maybe if I'd read it around Christmas. With Christmas being my favourite holiday and the Christmassy setting of this book I think it would have made it more of a magical and whimsical read for me. Nonetheless the gorgeous backdrop for this story really made this a beautiful story. I just wished I could have enjoyed it more, I think I just had a hard time connecting with our MC Sienna, I could understand how difficult it could be for her spending Christmas away from close friends back home, so that she could help with her family's business. And then falling for a guy she didn't know much about and the stuff she did know wasn't that great and of course everyone was saying that a holiday romance wouldn't be the best thing for her, as it would be difficult to maintain the relationship when she got back home. And like Sienna's parents I did have my doubts about Caleb, we didn't really know his complete back story until much later on, but as the story progressed I could see why Sienna had a hard time of resisting him, I would have a hard time saying no to those killer dimples! But also Caleb was a genuinely nice guy, once you got past all the judgements and assumptions people were making of him. I just wished that I could have enjoyed this one more, as I loved Caleb, Sienna's friendship with Heather and her relationship with her parents was done really well too. I just felt as if parts were rushed too much, I know Caleb and Sienna didn't have a long time to spend with each other and I think that just as a constant reminder, didn't really make their relationship as believable as I wanted it to be. Also as I mentioned before I just didn't click with Sienna's character either, and forming this relationship with the MC usually plays a pivotal part in allowing me to enjoy a book that much more. But don't let my review put you off from giving this book a go, as I know many readers who thoroughly enjoyed it and Asher's writing was just beautiful!