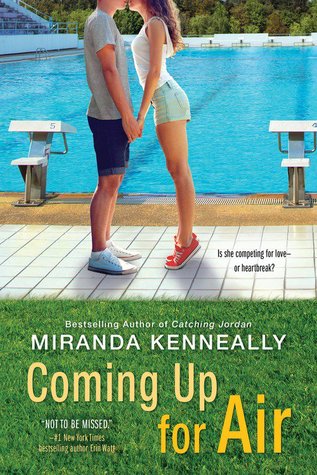 Coming Up For Air by Miranda Kenneally
Publisher:
Sourcebooks Fire
Publication Date:
July 4th 2017
My rating:
5 stars
Swim. Eat. Shower. School. Snack. Swim. Swim. Swim. Dinner. Homework. Bed. Repeat. All of Maggie's focus and free time is spent swimming. She's not only striving to earn scholarships—she's training to qualify for the Olympics. It helps that her best friend, Levi, is also on the team and cheers her on. But Levi's already earned an Olympic tryout, so Maggie feels even more pressure to succeed. And it's not until Maggie's away on a college visit that she realizes how much of the "typical" high school experience she's missed by being in the pool. Not one to shy away from a challenge, Maggie decides to squeeze the most out of her senior year. First up? Making out with a guy. And Levi could be the perfect candidate. After all, they already spend a lot of time together. But as Maggie slowly starts to uncover new feelings for Levi, how much is she willing to sacrifice in the water to win at love?
The Hundred Oaks series holds so many great memories for me, the first book Catching Jordan came out when I'd first started blogging and making friends in the blogging community. The fact that I'm still a blogger today and have come to the end of The Hundred Oaks series brings about the end of a fantastic reading journey for me. I've become attached to every single character in this series, I've loved how I've been able to follow them all on their journeys and see them develop into even greater individuals. With so many great characters that Kenneally has given us, I can't really choose a favourite, but once again Kenneally has won me over with characters such as Maggie and Levi.
I have to admit I didn't know a lot about Coming up for Air before I started and I think this was the best decision I could have made as I ended up enjoying it so much. I enjoy how Kenneally gives us her sport romances, being the sports junkie that I am, I love following characters through their passion for sports and watching them grow and develop into successful stars. So I was thoroughly excited when I found out this book would feature on a MC who was a swimmer. I've always been a fan of swimming and watching all the heats or competitions when they come on. So I loved that Kenneally gave us an MC in Maggie who was continually trying to be the best, she had a rival in Roxy who was the absolute worst, she would always get into Maggie's head, when she was trying to get her mind set for any big race. But most of all Maggie was your typical girl who was trying to balance everything in life. Swimming was her number one priority, but she also wanted to enjoy her social life before she went away to college, she had great friends in Levi, Hunter and Georgia, but she just wanted that somebody special, she had no real experience and so thought that now would be the perfect time to. I don't know what I really was expecting, but I loved the way that things played out, I guess because I wasn't expecting them to, but Kenneally totally made their relationship believable and not just two people pretending to be with each and help the other to get experience. I also was totally rooting for their relationship to go to the next level. I knew that there could be several barriers in the way, with both Levi and Maggie having a focus on so many important upcoming competitions, but I just wanted and needed them to make it work. I especially enjoyed the time they spent together, the development of their relationship was absolutely swoon worthy! (Also who could resist a guy that reads all the YA books?) But like I mentioned earlier, their relationship wasn't smooth sailing, and despite the bumps that came along the way, I felt that those were necessary for our characters to develop and grow and to realise what they wanted, despite the hurt it caused along the way (I was a sobbing mess at one point!).
Coming up for Air was another brilliant read from Kenneally, I'm actually quite sad about having to say goodbye to such great characters, but I'm sure that these are books I will come back to time and time again in the future!