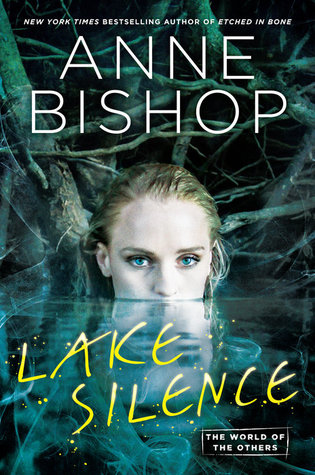 Lake Silence (The Others #6) by Anne Bishop
Publication date:
March 6th 2018
Publisher:

Ace
My rating:

4 Stars
Amazon | Barnes & Noble | TBD | Kobo
In this thrilling and suspenseful fantasy, set in the world of the New York Times bestselling Others series, Vicki DeVine and her lodger, the shapeshifter Aggie Crowe, stumble onto a dead body . . . and find themselves enmeshed in danger and dark secrets.

Human laws do not apply in the territory controlled by the Others–vampires, shapeshifters, and paranormal beings even more deadly. And this is a fact that humans should never, ever forget . . .

After her divorce, Vicki DeVine took over a rustic resort near Lake Silence, in a human town that is not human controlled. Towns like Vicki's have no distance from the Others, the dominant predators that rule most of the land and all of the water throughout the world. And when a place has no boundaries, you never really know what's out there watching you.

Vicki was hoping to find a new career and a new life. But when her lodger, Aggie Crowe–one of the shapeshifting Others–discovers a dead body, Vicki finds trouble instead. The detectives want to pin the man's death on her, despite the evidence that nothing human could have killed the victim. As Vicki and her friends search for answers, things get dangerous–and it'll take everything they have to stay alive.
I was thrilled to visit the world of The Others again with
Lake Silence
, but was a little unsure if I'd like it as much as the previous books that centered on Meg and Simon, and the Lakeside Courtyard residents. I will say that Meg and Simon continue to be my favorite, because, hello, romance junkie here, but Lake Silence was captivating! And there is a hint of a romance to come.
Wasn't sure if this was going to be a standalone, but I just checked and there's another book coming, so yay! Maybe I will get my romance after all.
So the story centers on Vicki, a recent divorcee who acquired a lakeside lodge in her divorce settlement, The Jumble.
Along with The Jumble, she has access to a prime lakeside beach on Lake Silence.
The Jumble is located in the Wild Country, smack in the middle of The Others' territory.
Vicki's very respectful of the terms of the land lease, and building restrictions while renovating, which is something that's noticed and appreciated by The Others who live all around her. Not that she realizes all this at first.
Vicki's ex-husband is a
real
piece of work with nefarious plans and he starts to set these in motion.
Also, Vicki's lodger, Aggie Crow, finds a dead body on the property, and this really sets the story into motion.
Officer Wayne Grimshaw, a highway patrolman, is sent up to The Jumble to investigate and becomes embroiled in the whole mess, and temporarily stationed in Sproing, the little town adjacent to The Jumble.
There's also Julian, an Intuit, and previous policeman who worked with Grimshaw, and several other interesting and fun characters.
Aggie, Vicki's lodger and member of the Crowgard.
Ineke, the boardinghouse owner, and kick-ass friend of Vicki; Ilya Sanguinati, a scary, but "yummy" attorney, and many more. All play a vital role in Vicki's new exciting life.
I think Vicki's story sort of echoed bits of Meg's story in the first books, where a human settles in with The Others and because of her courage, acceptance of The Others, kindness, and lack of prejudice, is taken under the wing (s) of The Others she comes in contact with.
Vicki finds herself in a heap of trouble and bullied by a group of men, that include her dirtbag of an ex-husband, who want to take over her property.
I was so thrilled when The Others took up for her, much to the surprise of the horrible, scheming men, who'll stop at nothing to get there way.
Gotta say, I was so very nervous for Vicki on more than one occasion!
The story took a little bit to get into, but that wasn't surprising with a new cast of characters and new location, but reading the previous books made it easy to slide in and get comfortable.
I didn't want to put the book down, not even when driving on some windy roads.
I was on vacation, visiting wineries while reading, and didn't want to get car sick, so I purchased the audio version, so I didn't have to stop the story! My husband also became riveted to the story while I had it playing in the car.