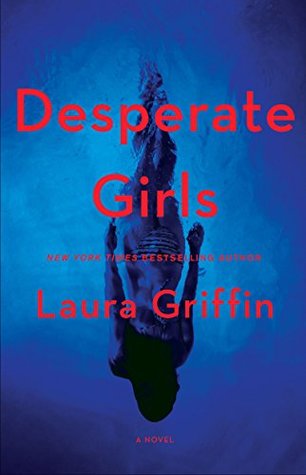 Desperate Girls (Wolfe Security #1)
by Laura Griffin
Publication date:
August 7th 2018
Publisher:

Gallery Books
My rating:

4.5 Stars
Pages:

368
Amazon | Barnes & Noble | TBD | Kobo

Desperate Girls is a tightly wound, fast-paced romantic thriller that follows a desperate woman on the run as she hides from a killer's symbolic revenge spree.

Defense attorney Brynn Holloran is right at home among cops, criminals, and tough-as-nails prosecutors. With her sharp wit and pointed words, she has a tendency to intimidate, and she likes it that way. She's a force to be reckoned with in the courtroom, but in her personal life, she's a mess.

When a vicious murderer she once helped prosecute resurfaces and starts a killing spree to wipeout those who put him behind bars, one thing becomes clear: Brynn needs to run for her life.

When the police come up empty-handed, Brynn turns to a private security firm for protection. But when she defies advice and gets involved in the investigation, even the former Secret Service agent assigned to protect her may not be able to keep her safe. With every new clue she discovers, Brynn is pulled back into the vortex of a disturbing case from her past.

As the clock ticks down on a manhunt, Brynn's desperate search for the truth unearths long-buried secrets and reignites a killer's fury.
Brynn Holloran is a force to be reckoned with in the courtroom, but her life is turned upside down when she finds out a defendant she helped put away has escaped and is wanted for the brutal killing of her co-counselor.
This guy tortured, raped and strangled women, and chilled her with his cold, deadly staring during the trial.
Brynn's current boss is taking no chances with this dangerous threat and hires the Wolfe Security to protect Brynn. She balks at this level of action at first, but it soon becomes apparent the threat is very real!
Erik Morgan is serious when it comes to protecting his asset; lust and attraction have no place in his job, but Brynn ticks all his boxes.
She's gorgeous, feisty and confident, and Erik can't help but admire her conviction and determination, even if she is a pain in the ass to guard.
Laura Griffin kicks off her new series with a bang! I didn't want to put the story down when the danger kept coming!
Brynn and Erik's chemistry popped, the tension building between them as they got to know each other in close quarters.
All the while trying to figure out the killer's next move.
Desperate Girls was an exciting blend of danger, action, and romance! A definite recommend!