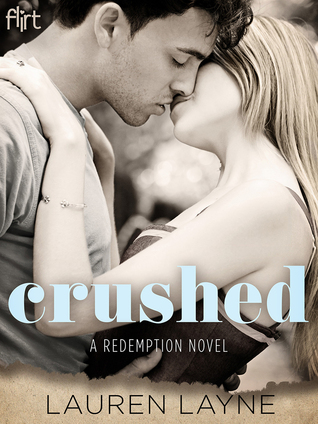 Crushed (Redemption #2) by Lauren Layne
Publisher:
Flirt
Publication date:
April 14th 2015
My rating:
3.5 stars
Amazon | Barnes & Noble
Lauren Layne's latest novel about the healing power of redemption tells the story of a crush gone wickedly wrong, proving that what you want isn't always what you need.

Growing up in New York, Michael St. Claire never expected to spend his twenties wearing cowboy boots. But that was before he learned about his real father, a total stranger with a family in Cedar Grove, Texas. Once in the Lone Star State, Michael meets Kristin Bellamy, who is exquisitely refined and everything Michael always thought he wanted in a woman. The only problem is that Kristin is dating Michael's new half brother, Devon.

Kristin's mouthy, curvy sister Chloe has always been in love with Devon Patterson. So when Michael offers to help Chloe break up Devon and Kristin, Chloe agrees to a deal that seems too good to be true. Before long, Chloe finally gets her man, only to make a startling discovery: She no longer wants the guy she had to fight for—she wants the one who stood by her side.

After all he and Chloe have been through, Michael swears he's damaged goods. Can Chloe convince him that love is worth the risk?
Michael was a secondary character in Isn't She Lovely and Broken, the first two books in this series, and even though he kissed his best friend's girlfriend, and caused all kinds of trouble, I felt bad for him. After getting his side of things, I almost couldn't fault him for his actions. Olivia, Ethan and Michael grew up together and both boys, Ethan and Michael, fell for Olivia but she only had eyes for Ethan. That didn't stop Michael from loving Olivia and so he had to endure watching them together. He took his chance with Olivia when he thought she felt something for him. It really wasn't right, but I could empathize with his situation even so.
In the end Olivia didn't pick Michael, and to add insult to injury, very soon after this rejection he found out his mother had an affair and he was the result. Michael left New York and headed to Texas to find his real dad, and get away from his heartbreak.
Michael decides the way to get close and observe his real father is through his half brother Devon. He uses Devon's girlfriend, Kristin, to try and accomplish that. Kristin is gorgeous, and hot and she knows it.
Even though she's with Devon, she doesn't mind Michael's attention. Kristin likes it when men drool over her.
But it's not Kristin who ends up turning Michael's life upside down; it's her loud mouth, curvy, younger sister, Chloe who grabs his attention.
Michael recognizes the longing on Chloe's face every time Kristen and Devon embrace. Chloe's been in love with Devon since they were in elementary school, but Kristin snatched him up once he grew out of the awkward stage, and became popular. Michael offers to help Chloe make herself over and finally get Devon after years of longing, but soon Chloe is wondering if Devon is who she really wants.
After spending time with Michael, Chloe slowly starts to fall for him, someone who sees and likes her as she is. In spite of his reluctance, Michael starts to fall for Chloe as well.
I know going after your sister's boyfriend fits into the icky category, but it seemed like Kristin charmed and stole away Devon.
I can't say I really liked Devon much, because he went for someone like Kristin, who was thoroughly unlikable, IMO, because of her looks.
Although, I guess after going through an awkward, geeky stage, coming out of it, and then gaining the attention of someone like Kristin would be a boost to the ego.
This was sort of an odd romance where the main characters were initially wrapped up in someone else but unexpectedly fell for each other. It took me a while to warm to Chloe and Michael being a couple, because for a good portion of the book I didn't even sense any attraction or chemistry between them.
I did like both Michael and Chloe, though. Chloe was awesome and spunky, and so real. She said whatever she was thinking for the most part, except with her sister. Kristin treated her sister terribly and I really couldn't stand her. I appreciated that Michael fell for Chloe and liked her for her uniqueness, both in personality and looks.
I really enjoyed the first two books in this series and usually I'm excited to get a glimpse of the previous couples, but I was a little puzzled by Olivia and Ethan's reunion with Michael here. I would've liked to see a lead up or the part where they made amends, and were friendly again.
(Highlight for spoiler)
Instead they show up out of the blue to help Michael with his relationship woes.

I also would've liked it more if Michael would've been the one to go after Chloe, instead of his friends arranging it, especially because it was Michael who pulled away.
(end of spoiler)
I can't say I liked Crushed as much as the first two books, but I still enjoyed it a lot.
It still had Lauren Layne's signature snark and humor, and I did eventually warm to the romance.