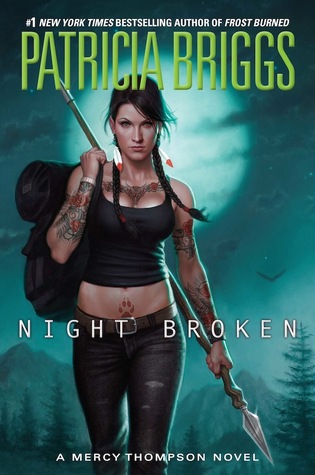 Night Broken (Mercy Thompson #8) by Patricia Briggs
Narrated by
:
Lorelei King
Publisher:

Brilliance Audio
Length:
10 Hours 5 Minute
s
Audiobook Publication date:
March 11th 2014
My rating:
4.5 stars

An unexpected phone call heralds a new challenge for Mercy. Her mate Adam's ex-wife is in trouble, on the run from her new boyfriend. Adam isn't the kind of man to turn away a person in need—and Mercy knows it. But with Christy holed up in Adam's house, Mercy can't shake the feeling that something about the situation isn't right.

Soon, her suspicions are confirmed when she learns that Christy has the farthest thing from good intentions. She wants Adam back and she's willing to do whatever it takes to make it happen, including turning Adam's pack against Mercy.

Mercy isn't about to step down without a fight, but there's a more dangerous threat circling. Christy's ex is more than a bad man—in fact, he may not be human at all. As the bodies start piling up, Mercy must put her personal troubles aside to face a creature with the power to tear her whole world apart.
As usual with the Mercy Thompson series, I was glued to the pages. I detested Christy (Adam's ex-wife and master manipulator) and I dreaded her bit in the story. The saving grace was that Adam staunchly supported Mercy, and they were a united front. I do wonder why the heck he let Christy answer his phone so many times, though! The action and plot were fast paced and distracted me from Christy enough to enjoy the story. Mercy shined the whole way through, but I wouldn't have minded if she was a tad more petty and mean to the ex-bitch, but that would've given power to Christy's attempts to undermine Mercy's standing with both Adam and the pack. I marvel at Mercy's people skills and ability to think things through. Love that she's a total badass, too!

This series is just pure awesomesauce, and Lorelei King's narration completely enhances the experience! A total recommend!