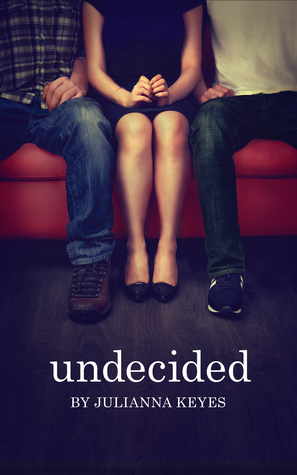 Undecided by Julianna Keyes
Publication Date:
April 4th 2016
My rating:
4.5 stars
Nora Kincaid has one goal for her second year of college: be invisible. Last year's all-party-no-study strategy resulted in three failed classes and two criminal charges, and if she messes up again she'll lose her scholarship. But there's one problem with her plan for invisibility, and his name is Crosbie Lucas: infamous party king, general hellraiser…and her new roommate's best friend. Crosbie's reckless reputation and well-known sexcapades aren't part of Nora's studious new strategy, but as she's quickly learning, her new plan is also really boring. When Crosbie's unexpected gestures of friendship pull her head out of her books long enough to see past his cocky veneer, she's surprised to find a flawed and funny guy beneath it all. The muscles don't hurt, either. But as Nora starts to fall for Crosbie, the weight of one of last year's bad decisions grows even heavier. Because three failing grades and two misdemeanors are nothing compared to the one big secret she's hiding…
Undecided ended up being one of those delightful reads that I ended up devouring in a few hours. Me and NA books don't normally go, I can safely say the last year I've been largely avoiding them. But after Undecided was recommended to me by Alyssa, who has successfully been recommending books to me, I knew it was a book I had to give a go. I'm hugely grateful that I did as it was a book which avoided those typical NA tropes; troubled characters with shady problems and who became better people by being with each other. Don't get me wrong Crosbie and Nora have their fair share of problems to deal with, but they're not characters that mope about them or let them bring them down. Yes Nora had decided to change from the party girl that she was because she was so close to failing last time, and also being arrested and constantly checking in with the dean is not something Nora would like to go through again and I could understand that. And Crosbie comes across as the guy with the reputation (not as bad as his best friends Kellan's) but still Nora wouldn't consider giving Crosbie the time of day.
I loved how Crosbie and Nora had these stereotypical perceptions of one another; Nora the nerdy librarian and Crosbie as the ladies man and who doesn't give a toss about his school work. But through spending time with each other they were able to realise that there was more to each other than they were led to believe, Nora could let her hair down when she wanted to do and have fun and Crosbie honestly don't get me started on him, Crosbie quickly became one of my all time favourite crushes. Beneath this tough muscular exterior, he was the sweetest guy ever, his intentions and feelings for Nora were super clear, that I'm glad that Nora decided to give him a chance. He was willing to keep their relationship undercover so that Nora wouldn't get stuck with the reputation of being a "Crosbabe". He was super sweet in treating her as a proper gentleman would, he'd knew she'd been through her fair share of bad relationships, so wanted to treat her to a good time that she so deserved. Keyes did an incredible job of building up their romance between Crosbie and Nora, the slow burn was done beautifully, with Keyes constantly teasing you for more. And finally when Nora and Crosbie did get together, wow it was super hot!! And don't worry about the front cover at all Undecided doesn't feature a love triangle at all!
Despite certain characters omitting things from each other, I was able to overlook this aspect, because I knew that things would come to ahead at one point or the other, but the build up to this was something that I didn't want to be avoided either, but Keyes was still able to deal with this in an eloquent manner (I know there's no real right way the issue could have been dealt with friendships and hearts on the line, but it really was best for everyone with the truth coming out).
The relationship between Crosbie and Nora was one of my favourites. But I adored the secondary characters that Keyes threw into the mix too. Kellan, Marcella and Nate were great at livening up a scene, not only were they absolutely hilarious characters, but it was hard not to fall for them with the goofy ways and shenanigans. I for one would totally be up more from these characters with their own stories in the future.
Overall Undecided is a book that was a gem of a read for me this year, its funny bubbly characters and swoony romance is sure to win over many readers. If I could recommend only one book to pick up this year, it would definitely be Undecided without a shadow of a doubt.