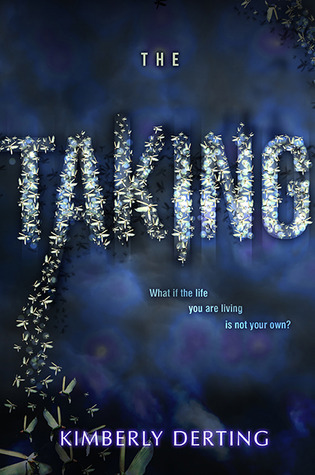 The Taking by Kimberly Derting
Publisher:
Harper Teen
Publication date:
April 29th 2014
My rating:
DNF/2 stars
A flash of white light . . . and then . . . nothing. When sixteen-year-old Kyra Agnew wakes up behind a Dumpster at the Gas 'n' Sip, she has no memory of how she got there. With a terrible headache and a major case of déjà vu, she heads home only to discover that five years have passed . . . yet she hasn't aged a day. Everything else about Kyra's old life is different. Her parents are divorced, her boyfriend, Austin, is in college and dating her best friend, and her dad has changed from an uptight neat-freak to a drunken conspiracy theorist who blames her five-year disappearance on little green men. Confused and lost, Kyra isn't sure how to move forward unless she uncovers the truth. With Austin gone, she turns to Tyler, Austin's annoying kid brother, who is now seventeen and who she has a sudden undeniable attraction to. As Tyler and Kyra retrace her steps from the fateful night of her disappearance, they discover strange phenomena that no one can explain, and they begin to wonder if Kyra's father is not as crazy as he seems. There are others like her who have been taken . . . and returned. Kyra races to find an explanation and reclaim the life she once had, but what if the life she wants back is not her own?
DNF at 70%
The Taking was one of those books which I went into with really high expectations, but it ended up being bit a of a disappointment. Just by reading the blurb, anyone would want to give this book a try; memory loss, kidnappings and unexplained disappearances. And whilst The Taking did start off by winning me over in the first few pages, it kind of petered off into something that I really wasn't enjoying. Kyra has it all, a great family and she's about to go off to college with her awesome boyfriend. But then she ends up getting into an argument with her dad and running away, all she can remember after that is a bright light and then waking up in the Gas n' Sip five years later. I was intrigued what could have happened to Kyra, as time would tell Kyra seemed pretty much the same in the five years since she went missing, but everything else had turned into a train wreck around her. I did feel sorry for Kyra, everyone she knew had moved on, her parents had separated, her mother had got together with somebody else and had a child with him, her dad was no longer the strong figurative father that he used to be and her boyfriend had got together with her best friend. Seriously this is the thing that miffed me the most, why does this always have to happen? How many thousands of girls could there be living in their town, but Austin Kyra's boyfriend decides to get together with his girlfriend's best friend Cat instead. Then to top it all off, Kyra falls for Austin's brother Tyler!! Seriously, okay Tyler was a sweet enough guy and had apparently been in love with Kyra forever, but still.
Okay so swapping boyfriends aside, despite being annoyed by this, I found myself invested in finding out what had happened with Kyra, why was she still the same, (she still had a bruise from five years ago and an x-ray at the dentists showed her teeth were exactly the same too, even the crack in her tooth from five years ago). There were a lot of conspiracy theories flying about; her dad had thrown himself into research for the last five years looking for an answer. And I did want to know what was going on, but I think it just took too long getting there. I'm one of those readers that doesn't DNF a book that often and instead tell myself to read another 10% and maybe something will happen, I always have that thought at the back of my head that by giving up now, I'll probably miss out on something major just around the corner. And that's exactly what I did with The Taking; I decided to continue reading a bit more, hoping that we would get a better insight into what was going on with Kyra. Instead we got random people lurking about claiming to know what was going on but never really explaining anything. Or Kyra being in constant denial about her feelings for Tyler! It's a shame really as I really did want to know how things would end. But the more I read the more frustrated I became.