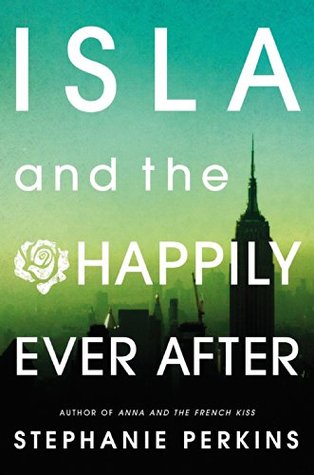 Isla and the Happily Ever After by Stephanie Perkins
Publisher:
Usborne Publishing
Publication Date:
August 14th 2014.
My rating:
4 stars
Hopeless romantic Isla has had a crush on brooding artist Josh since their first year at the School of America in Paris. And, after a chance encounter in Manhattan over the summer break, romance might be closer than Isla imagined. But as they begin their senior year back in France, Isla and Josh are forced to face uncertainty about their futures, and the very real possibility of being apart. Set against the stunning backdrops of New York, Paris and Barcelona, this is a gorgeous, heart-wrenching and irresistible story of true love, and the perfect conclusion to Stephanie Perkins's beloved series.
There's nothing that beats picking up a cute read which leaves you with all the warm fuzzies and gets you out of your holiday blues. Honestly I was feeling like crap about being back home and so not having read a single book in a month! I needed something that would keep me distracted, absorbed and get me back into reading once again. And Isla and the Happily ever after was just the sort of read. Before you knew it I was over 40% in and not wanting to go to sleep (this hasn't happened to me in a long time.) I have I have to admit I was a little wary at first with the mixed ratings I had seen before, but Perkins adorable characters and whimsical writing helped me get lost into a world where I could forget everything else around me.
Perkins has always had this fantastic knack for giving us beautifully written romances, yes Josh and Isla did seem to fall quite quickly for one another, bur their relationship was made to feel believable and realistic. I could connect with the strong feelings they had for one another and the gut wrenching emotions they had to go through when separated. When I'm able to feel more emotion from a relationship, the relationship always seems to work for me. Also I appreciated the MC that Perkins gave to us in Isla. She wasn't your typically confident MC, but had her self- doubts which could hold her back at times. I know some readers may have been frustrated with the blips that these made along the way, but being a person who has constantly being checked herself to make sure what I'm doing is right or even doubting my abilities, I liked how Perkins illustrated not everyone can have that confidence down.
Josh and Isla's relationship had it's up and down moments, but because their feelings for each other were so genuine and strong I knew that they could get through it. Even though I've always said that nothing could top Anna and St Clair's relationship, I think Josh and Isla may have just done that. I loved how fierce and raw their feelings were for each other, how when they were together nothing else mattered, but each other. But most of all I liked it when the characters in the relationship are willing to take risks and be open about their feelings for one another. Isla could be a bit resistant at first, but with the hurt and separation that both Josh and Isla had to go through, this really broke me too.
Overall the wait for Isla and the Happily Ever After was a long time coming, but totally worth it in the end. Once again Perkins was able to sweep me off my feet with her beautiful writing and swoon worthy characters and relationships she introduced. I'm quite sad about having to let these characters go, but I'm grateful that they've managed to leave such a huge impression with me.