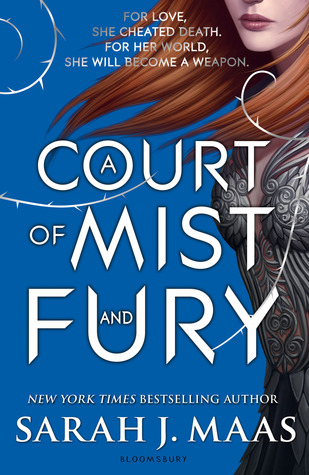 A Court of Mist and Fury by Sarah J. Maas
Publisher:
Bloomsbury Childrens Books
Publication Date:
May 3rd 2016
My rating:
3 stars
Feyre is immortal. After rescuing her lover Tamlin from a wicked Faerie Queen, she returns to the Spring Court possessing the powers of the High Fae. But Feyre cannot forget the terrible deeds she performed to save Tamlin's people - nor the bargain she made with Rhysand, High Lord of the feared Night Court. As Feyre is drawn ever deeper into Rhysand's dark web of politics and passion, war is looming and an evil far greater than any queen threatens to destroy everything Feyre has fought for. She must confront her past, embrace her gifts and decide her fate. She must surrender her heart to heal a world torn in two.
I'm completely torn as to how I feel about this book, I loved, absolutely loved A Court of Thorns and Roses and I loved both Rhys and Tamlin's characters, they had the potential to bring so much more to the next book and honestly I couldn't in particular wait to get more of Rhys, to see how his character would develop, he'd left me wanting so much more. But with this book I kind of was annoyed about the way things unfolded. I know I'm most likely to be the black sheep when it comes to this book, which I'm sort of angry with myself about, but honestly throughout all I wanted to sing was Neyo's song Let me love you, because that's really all I wanted to do.
Now major character changes is a big no no for me, there's been so many series which I loved and backed a character from the beginning, only for the author to completely change said character in the next book and I'm like where the heck did that come from? And with A Court of Mist and Fury, I was slightly flabbergasted, okay so certain things I couldn't believe this character was doing, like with everything they'd shown in the first book, their love and affection, where had it gone? I could understand them wanting to protect this person with all of their life, but other things I couldn't understand. And then another character constantly shames that character for what they did, this really miffed me off. It's like this persons missing for the majority of the book, they haven't explained or been able to why they did those things and to be honest at the beginning, I only thought a few things were harsh, so the constant doubting of their relationship afterwards really got to me. The relationship was everything in A Court of Thorns and Roses and for it to come to this I really couldn't understand how this was possible. Maas completely destroyed a character in my eyes. One of the best. Also before I was really looking forward to seeing the smartarse character I loved in Rhys came back, but even though we did get glimpses of this, he was a different character. I did appreciate this side that we got to see of him, it was certainly one that I wasn't expecting, but I just felt things changed so quickly. Yes he was there, he gave the space that was necessary and let this person be who they wanted without completely trying to control them. But two months for it to go from that to this? It was just too much for me to wrap my head around.
Now I'm not completely writing off this book, but the way that was dealt with was too much for me to deal with. But that aspect aside there was a lot of great things that was bought to the story that really kept this book going for me. Firstly the new set of characters I was a huge fan of. With the characters I'd already become to love in A Court of Thorns and Roses I didn't think I could have room in my heart for anymore, but Cassian, Azriel, Mor and even Amren found their way in. They were such a diverse set of characters; strong, quirky but also so dangerous that at first I was a little unsure of them, but the more time I spent with them, the more I realised how much I missed them when they weren't around. They were willing to risk their lives for someone they barely knew, and in my eyes that's a massive thing for me.
I also appreciated Maas world building, at any one point I never knew what was around the corner, the story telling was immense! And that ending, after everything I'd been through it really did break my heart. All in all I'm still really conflicted about A Court of Mist and Fury, some aspects I loved the heck out of and others not so much, but like I said the way things were left I'm more than likely to give the next book a go, because of course I need to know how things end up.