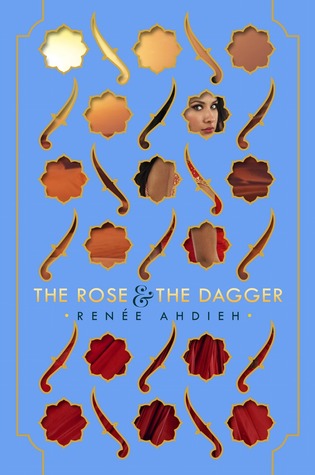 The Rose & the Dagger by Renee Ahdieh
Publisher:
G.P Putnam's Sons for Young Readers
Publication Date:
April 26th 2016
My rating:
5 stars
I am surrounded on all sides by a desert. A guest, in a prison of sand and sun. My family is here. And I do not know whom I can trust. In a land on the brink of war, Shahrzad has been torn from the love of her husband Khalid, the Caliph of Khorasan. She once believed him a monster, but his secrets revealed a man tormented by guilt and a powerful curse—one that might keep them apart forever. Reunited with her family, who have taken refuge with enemies of Khalid, and Tariq, her childhood sweetheart, she should be happy. But Tariq now commands forces set on destroying Khalid's empire. Shahrzad is almost a prisoner caught between loyalties to people she loves. But she refuses to be a pawn and devises a plan. While her father, Jahandar, continues to play with magical forces he doesn't yet understand, Shahrzad tries to uncover powers that may lie dormant within her. With the help of a tattered old carpet and a tempestuous but sage young man, Shahrzad will attempt to break the curse and reunite with her one true love.
The Rose and the Dagger was a book which reignited my passion and love for reading, the last few months had been some of the hardest reading months for me, with only a handful of books making it on my radar. My last five star book was all the way back in November! but once again Ahdieh came through for me with a splendid story in The Rose and the Dagger. Whilst I thoroughly enjoyed The Wrath and the Dawn, Ahdieh took it up a whole another level with The Rose and the Dagger. The stakes were even higher this time and with multiple hearts on the line including mine I seriously had a hard time keeping up with the tough scenes), but all the heartache and surprises I had to endure were worth it.
Shazi once again was a formidable character; she had a lot to deal with in this story and a tough time deciding upon who she could fully trust. But I liked how she was the same fierce and outrageous lady we'd come to know and didn't let her "status" and who she had become change that. Her love for Khalid was strongly apparent and I for one couldn't wait for them to be reunited once more, they were jigsaw pieces that fit perfectly and the softer but still protective side we got to see of Khalid because of Shazi I loved the most! Shazi really did have to go through an incredible journey in this book, but I adored the characters that she met along the way, and how she found friends in the most unexpected of places.
Despite Shazi being our main MC, I liked how Ahdieh gave us perspectives from different characters in the book too. Characters who we really didn't get to know properly in The Wrath and the Dawn, but their voices and personalities really came through in this book. Surprisingly Isra became one of my favourite characters, I assumed her to be a young immature girl, but I couldn't be more wrong, her growth throughout was immense and one of my favourite scenes in the entire book was with Isra. This sweet girl had me laughing so hard, (but also my heart went out to her too.) Just be sure to be ready for these fantastic characters, because they'll be sure to take up all the space in your heart!
The Rose and the Dagger had everything that I love and more, the romance was beautifully done, it made my heart ache and then at times made it soar and the dangers lurking around the corner and unexpected surprises had me on the edge of my seat. The world and wonderful characters that Ahdieh bought into my life I really didn't want to let go, but I know this book and its predecessor will hold a special place in my heart for years to come.