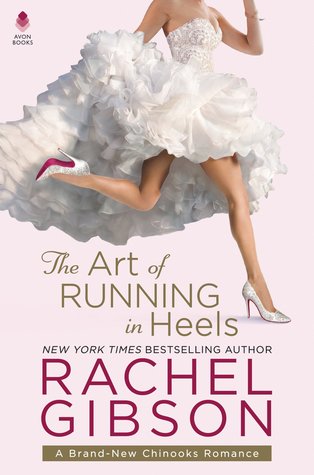 The Art of Running in Heels (Chinooks Hockey Team #7) by Rachel Gibson
Publisher:
Avon
Publication date:
26th December 2017
My rating:
4 stars
Running in five-inch stilettos is an art form. Leaving your fiancé at the altar on live television is a disaster. Lexie Kowalsky thought she was ready to get married in front of millions of people, but at the last minute she fled the set of television's hottest reality show, Gettin' Hitched. Wearing a poofy white dress and a pair of five-inch sparkly shoes, Lexie hopped a float plane for Sandspit, Canada. She figured no one would find her there. But she was wrong. Sharing her flight was the Seattle Chinooks biggest star, Sean Knox. Lexie wasn't just a reality-show runaway, she was his pain in the butt coach's daughter. She was chaos and temptation and definitely off limits, but getting her luscious body out of that wedding gown, he couldn't resist getting her in his bed for one amazing night Then a photo of Sean and Lexi breaks the internet—and suddenly they're both swept up in a crazy plan to spin the whole story. But you can't run from love.
Reading a book by Rachel Gibson has been a long time coming and now after finishing The Art of Running in Heels, I feel like kicking myself for not trying her books sooner, as this book was such a delight to read. I've always been a fan of sports romances in books, but lately with books featuring hockey I've been devouring and I've kind of become hooked to these big hockey stars prowling around everywhere. And with The Art of Running in Heels, Gibson gives us an excellent mix of sports romance and fake relationship trope. It really was done well, as aspects of Lexie and Sean's scenes I wasn't sure if it was all an act or actual genuine emotions that the characters felt for each other. Yes, Lexie's original plan of getting together was so that it would improve her reputation, but I loved the way that things actually played out. I also kept forgetting at times that both Sean and Lexie only really knew each other for such a short period of time, but Gibson really made their relationship believable and their feelings really realistic. What I liked the most about Lexie's character was that a lot of people assumed what she was like, and their judgement couldn't have been more wrong, Lexie really had a lot to deal with especially with the spur of the moment decision she made to leave Pete from reality show Gettin' Hitched on their wedding day, of course this would bring about a lot of backlash for Lexie, but I admired her strength, to try and bring her reputation back any means necessary. Also, she had a business which was on the brink of success, which she couldn't let it go down the toilet, with all her hard work. Lexie really made this story for me, her extensive lists and escapades had me totally eager for more and wanting to know how things would go down. Also with a super hot hockey player roped in her plans, I knew Lexie's adventure would be a lot of fun! Gibson was also able to give us wonderful secondary characters in Sean's mom and Lexie's father who honestly had me laughing so much. Like Lexie's whole situation was serious enough, who knew what repercussions she would have to deal with, but I enjoyed the humour that Gibson bought along the way. There was one thing later on which I wished hadn't gone down, but I think it was completely necessary for a certain someone to realise that they were making one of the biggest mistakes ever. This is my first book in the Chinooks Hockey Team series, but after reading The Art of Running in Heels, it certainly won't be my last! I need more hot hockey players and swoony romances in my life!