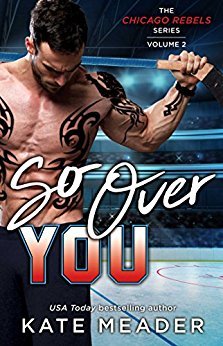 So Over You (Chicago Rebels #2) by Kate Meader
Publisher:
Pocket Star
Publication Date:
December 4th 2017
My rating:
4 stars
Three estranged sisters struggle to sustain their late father's failing hockey franchise in Kate Meader's sizzling Chicago Rebels series. In this second entry, middle sister Isobel is at a crossroads in her personal and professional lives. But both are about to get a significant boost with the addition of a domineering Russian powerhouse to the Rebels.... Isobel Chase knows hockey. She played NCAA, won Olympic silver, and made it thirty-seven minutes into the new National Women's Hockey League before an injury sidelined her dreams. Those who can't, coach, and a position as a skating consultant to her late father's hockey franchise, the Chicago Rebels, seems like a perfect fit. Until she's assigned her first job: the man who skated into her heart as a teen and relieved her of her pesky virginity. These days, left-winger Vadim Petrov is known as the Czar of Pleasure, a magnet for puck bunnies and the tabloids alike. But back then... let's just say his inability to sink the puck left Isobel frustratingly scoreless. Vadim has a first name that means "ruler," and it doesn't stop at his birth certificate. He dominates on the ice, the practice rink, and in the backseat of a limo. But a knee injury has produced a bad year, and bad years in the NHL don't go unrewarded. His penance? To be traded to a troubled team where his personal coach is Isobel Chase, the woman who drove him wild years ago when they were hormonal teens. But apparently the feeling was not entirely mutual. That Vadim might have failed to give Isobel the pleasure that was her right is intolerable, and he plans to make it up to her—one bone-melting orgasm at a time. After all, no player can perfect his game without a helluva lot of practice...
Meader once again gives us a sizzling follow up book in the Chicago Rebels series with So Over You. I thought I had read it all with Irresistible You, I had a new favourite crush in Remy and the romance between him and Harper was off the charts. But then comes along Vadim in So Over You and I'm a complete goner (just imagine Gleb from Dancing with the Stars, which I did every single time *swoon*). I love it when characters have a history and then are forced to deal with each other again. When Harper decided to sign Vadim to the Rebels team, I really didn't think too much about it, but then when we were given little hints that there was a past between Vadim and Isobel, I was completely intrigued, what had gone on between them? Of course, it wasn't anything that I ever would have imagined, there was so much that had gone on, with interference from multiple parties and miscommunication that made me want to shake sense into people. But I was hoping that now with Vadim and Isobel having to work with each other, this would give them the perfect chance to sort everything out, despite the constant denial from Isobel that nothing could happen between them.
Once
again just like with Harper and Remy, Isobel and Vadim's relationship was a tough one, Isobel was co-owner of the Rebels, but also acting coach for Vadim, he hadn't played much since his knee injury, so Isobel was enlisted to coach him back to fitness one on one. I loved the early interactions between Vadim and Isobel, both characters were so stubborn thinking they knew what was right. But once they were able to overcome this, the heat and passion between them was super hot! Meader once again worked her magic with their relationship wonderfully, the build-up was slow burn much to my liking, but then once we reached that point where Vadim and Isobel couldn't get enough, the romance was sizzling! I really liked this relationship between Vadim and Isobel, because it had spanned a few years, so the depth of their feelings was totally realistic; we had the side which was totally swoon worthy, but also a tender and vulnerable aspect of their relationship too, as mistakes had been made in the past, and because their feelings ran so deep. Like I already said, their relationship was beautifully done, it was also tinged with some heartache and betrayal, which really did make my heart hurt, but I think it was needed for certain characters growth along the way.
So Over You, wasn't just full with a wonderful romance, but it featured some great side stories too, we had Vadim's family, Isobel still attempting to build on her relationship with her sisters and the Rebels trying to make the play offs. There was so much going on in this book, but I loved it! There's still so many characters that I feel like we have so much to learn about and to explore that I'm kind of gutted that there's just one more book to go, but 2018, can't come soon enough, as I need to be back with these wonderful characters as soon as possible.