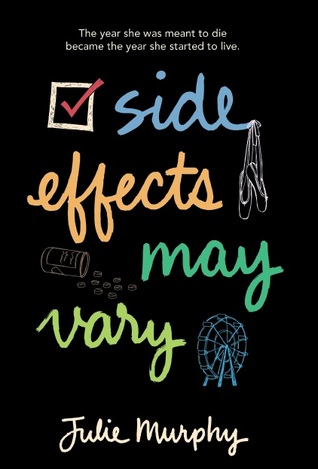 Side Effects May Vary by Julie Murphy
Publisher:
Balzer + Bray
Publication date:
March 18th 2014
My rating:
DNF
What if you'd been living your life as if you were dying—only to find out that you had your whole future ahead of you? When sixteen-year-old Alice is diagnosed with leukemia, her prognosis is grim. To maximize the time she does have, she vows to spend her final months righting wrongs—however she sees fit. She convinces her friend Harvey, who she knows has always had feelings for her, to help her with a crazy bucket list that's as much about revenge (humiliating her ex-boyfriend and getting back at her archnemesis) as it is about hope (doing something unexpectedly kind for a stranger). But just when Alice's scores are settled, she goes into remission. Now Alice is forced to face the consequences of all that she's said and done, as well as her true feelings for Harvey. But has she caused irreparable damage to the people around her—and to the one person who matters most?
Side Effects May Vary was my second book dealing with cancer in a row (I had read The Fault in our Stars just before). I'd also been on an emotional book binge, so was sort of expecting the same from this book. However this book mostly left me frustrated because of Alice's character. I thought the then and now chapters may help to change my feelings towards her and actually understand the way she was. And yes I get that she had so much crap to deal with from Celeste and Luke and that they did deserve a lot of what she was planning coming their way, but her treatment of Harvey was too much for me. At the beginning we were treated to Alice's pov when she's with Luke, it's clear that she has feelings for Harvey and I don't know if it was the cancer which hardened her character and made her wanted to do just what she wanted as she didn't know if she would to make it, but still that didn't give her the right to string Harvey along.
But what makes matters worse is that when she's told she's in remission, instead of actually thanking Harvey and sharing her appreciation for being there for her, she starts to ignore Harvey and latches on to another guy right in front of Harvey! And I really did feel for Harvey he was there for Alice when she was at her weakest, he was roped into doing things he wasn't comfortable with and he'd put his feelings for Alice out there. For her to throw it in his face. But what made me madder was that Harvey still continued to try and do things for Alice in the now! I understood he couldn't completely shut off his feelings, but I knew Harvey could do so much better. Alice and Harvey's characters just eventually became too much for me that I couldn't read anymore. I was curious to find out how things would end, but not enough to continue with this book.