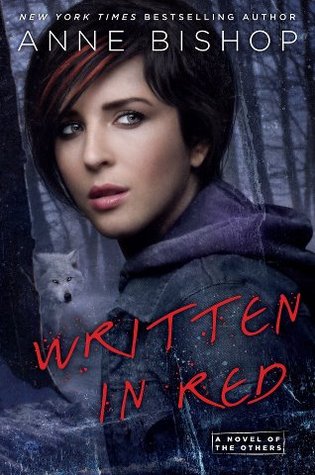 Written in Red (The Others #1) by Anne Bishop
Narrated by
:
Alexandra Harris
Publisher:
Penguin Audio
/
NAL
Length:
18 Hours 32 Minutes
Audiobook Publication date:
March 5th 2013
My rating:
5 stars
No one creates realms like New York Times bestselling author Anne Bishop. Now in a thrilling new fantasy series, enter a world inhabited by the Others, unearthly entities—vampires and shape-shifters among them—who rule the Earth and whose prey are humans.As a cassandra sangue, or blood prophet, Meg Corbyn can see the future when her skin is cut—a gift that feels more like a curse. Meg's Controller keeps her enslaved so he can have full access to her visions. But when she escapes, the only safe place Meg can hide is at the Lakeside Courtyard—a business district operated by the Others.

Shape-shifter Simon Wolfgard is reluctant to hire the stranger who inquires about the Human Liaison job. First, he senses she's keeping a secret, and second, she doesn't smell like human prey. Yet a stronger instinct propels him to give Meg the job. And when he learns the truth about Meg and that she's wanted by the government, he'll have to decide if she's worth the fight between humans and the Others that will surely follow.
I've been eager to pick up Written in Red for some time after hearing so much praise for the story, and now I'm sorry I didn't make time sooner because it was amazing!
This story is set in a world where there are humans and the Others: shapeshifters, vampires, elementals and unknown otherworldly creatures who view humans as "clever meat".
Their relationship is tenuous at best, but also symbiotic since each group has come to rely on the other for goods and supplies. By far, though, the Others have the upper hand in this world.
As a blood prophet or
cassandra sangue,
Meg Corbyn has lived a life imprisoned, enslaved and viewed as property. The prophecies Meg sees are highly profitable to a man called The Controller, so when she escapes Meg must find a safe place to avoid recapture.
She stumbles into the Lakeside Courtyard, an Others settlement, and acquires the job of Human Liaison and it seemed as though she was jumping from the frying pan into the fire, but Meg weaves her way into the Others' hearts regardless of the fact that she's a human. She wins them over with her efforts to do a good job as the Liaison, truly caring for others whether they are human or the Others, and in the process she becomes special to the Others.
Even Simon, Lakeside's leader and wolf shifter softens towards Meg in spite of their rocky start. Her friendship and influence on Sam, a little traumatized wolf shifter and Simon's nephew, plays a big role in his softening. Her friendship and interactions with Sam, her little "adventure buddy" made my heart swell!
There isn't a romance
yet
but there are hints and groundwork laid in this installment for one. Watching it take shape was satisfying and of course, I hopefully scrutinized every interaction!
The constant threat of The Controller and his efforts to reacquire Meg provided suspense, danger, and action that had me anxiously turning the pages! The Others provided her with protection he didn't count on, but that didn't stop me from being very afraid for Meg, especially as more of her life in the Controller's compound was revealed.
Evil man!
I just LOVED this story soooo much, and I doubt I'm doing it justice with my review but I highly recommend it! I couldn't get enough. I bought both the e-copy and audible version and switched back and forth.
Even when I finished the e-copy at home, I listened to the remaining hours on the audio version because the story is that good. I will definitely re-read
Written in Red
and
Murder of Crows
(which I read immediately after) before the next book is released, not because I'll need a refresher, but because I want to relive the stories again!
Alexandra Harris' narration was low key and perfect! I loved are her wolf howl arroooohs!