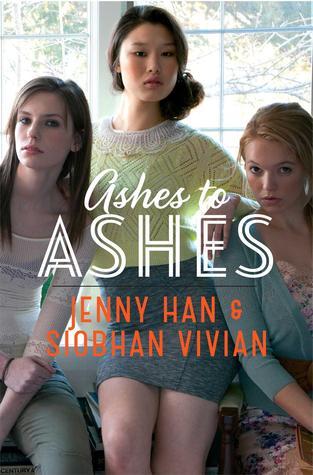 Ashes to Ashes by Jenny Han & Siobhan Vivan
Publisher:
Simon & Schuster's Children's Publishing
Publication Date:
September 16th 2014
My rating:
4 stars
What have I just read? Seriously Burn for Burn was a brilliant start to this wonderful series and Fire for Fire just made me so happy, but also ripped me to shreds. With Ashes to Ashes I just wanted to hug the book but also throw it across the other room. Basically the same feelings I had a year ago were dredged up once more.
It was great being back with my favourite characters once more, yes their lives had been thoroughly shook up since the last book and I wanted to know how everyone had been coping with it. Of course things had gone downhill way than I'd expected, I don't want to discuss spoilers, but if you're a fan of this series you'll know what I'm referring to within the first four chapters. Honestly it broke my heart, I knew that the only way a lot of the characters would get through this would be in the comfort of each other, and that's what I wanted, I wanted them to go back to the way things were before. But I knew that would never happen, especially with one character stirring everything up, I disliked this character in previous books, I didn't really want to spend time with her chapters either and it was the same again this time around, but this time she either just had me in full on vex mode or with my heart in my throat. Honestly I think this person would be scariest person to be around Halloween, I would never like to cross paths with her, I know that she had been through her fair share, but if everyone else was moving on why did she have to come and wreck everything? I think she would need to listen to the frozen song Let it Go a few times. Along with this character I only had one other irk (highlight to view spoiler)
the ending, seriously Han and Vivian, I had never wanted a happy ending in my life that I had for these characters, I wanted Kat to go to Oberlin, Alex to find his special one, maybe Kat? And Reeve and Lil to be together, did you see how much build up you gave me in this book, but only to crush my heart in the process, I thought with things being sorted with Mary, everyone would be fine, but that ending just about destroyed me
. Okay let's just pretend that didn't happen, I've actually already suppressed it. Moving on there were some delightful moments that brightened up the crushing heart moments, scenes which left me with a dopey grin on my face and left me re-reading some scenes over and over again.
Han and Vivian did a wonderful job with this book, in fact this entire series never has one of these books let me down, they were the sole destroying, punch in the heart, butterfly creating books that I have come to love and hold close to my heart. You're probably asking Jasprit are you feeling alright? But honestly books which evoke this many strong emotions are my go to books as they're the ones that end up leaving a great mark on me amongst the 100 or so books I read a year, they're the ones which have characters which you wished existed in real life and whom you're actually tearing up about having saying goodbye to, the ones that anyone touches a hair on their head, you would like to go into a hulk smash mode for. This series was one that tore and sewn my heart back together multiple times, but it's a series that I have no regrets over reading. Any books that Han and Vivian write in the future (can we have more collaborations please?) I know I will be pre-ordering immediately!