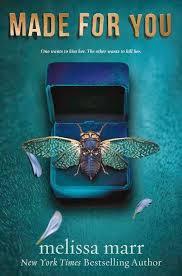 Made For You by Melissa Marr
Publisher:
Harper Collins
Publication date:
September 16th 2014
My rating:
4 stars
Amazon | Barnes & Noble | The Book Depository
Bestselling author of the Wicked Lovely books Melissa Marr's first contemporary YA novel is a twisted southern gothic tale of obsession, romance, and murder. A killer is obsessed with Eva Tilling. Can she stop him, or will he claim her?

When Eva Tilling wakes up in the hospital, she's confused—who in her sleepy little North Carolina town could have hit her with their car? And why? But before she can consider the question, she finds that she's awoken with a strange new skill: the ability to foresee people's deaths when they touch her. While she is recovering from the hit-and-run, Nate, an old flame, reappears, and the two must traverse their rocky past as they figure out how to use Eva's power to keep her friends—and themselves—alive. But while Eva and Nate grow closer, the killer grows increasingly frantic in his attempt to get to Eva.

For the first time, New York Times bestselling author Melissa Marr has applied her extraordinary talent to contemporary realism. Chilling twists, unrequited obsession, and high-stakes romance drive this Gothic, racy thriller—a story of small-town oppression and salvation. Melissa's fans, and every YA reader, will find its wild ride enthralling.
Made For You was creepy as heck! BUT it was also a story of longing and unrequited love! I'm such a sucker for those!
Eva Telling is part of the elite in the small southern town of Jessup but that doesn't protect her from the brutal attempt on her life.
When she's struck down by a car and left for dead, she has no recollection of what happened.
Waking up in the hospital, cut and broken, she has no idea who would do this to her. Even more chilling is the fact that since waking up she seems to have the ability to see a person's death if they touch her.
When her estranged best friend, Nate, shows up at the hospital and sticks to her side the time they've spent apart evaporates, but the longtime longing Eva's felt for him intensifies.
Nate's protective and supportive, and it's a good thing because this deranged killer isn't finished with Eva.
When she "sees" the death of her friends Eva does what she can to prevent them while trying to identify the killer in the process.
As she picks out clues from her visions, with Nate's help, they hope to get an advantage over the killer and stop the deaths until he's caught.
This is one seriously creepy read, because we are privy to the killer's SERIOUSLY cuckoo thoughts through his POV!
To know there are actually people out there in real life like this killer made this story bone chilling.
Someone you're acquainted with now could have these very thoughts and you wouldn't know until it's possibly too late is an unsettling thought, to put it mildly, and this is exactly what happens to Eva and her friends!
Thankfully, most of the book is in Eva's POV, because I don't think I could be in his head the entire book!
While
Made For You
had a very realistic contemporary feel, there still was a touch of the uncanny with Eva's "death visions".
I would categorize this as part thriller, part mystery and part romance, with emphasis on the thriller part.
I was on the edge of my seat wondering when and how the killer would strike next and the visions show he definitely wasn't done killing! I liked the logical approach Eva took throughout the story.
No unbelievably stupid actions on her part, withholding of secrets or lack of communication issues that I find
completely
frustrating in many of YA's are found in this tale! *sighs in relief* Eva was a sensible protagonist I found easy to connect to.
As for the romance, as I said I'm a sucker for unrequited love, especially between best friends.
Add in the longing that comes from wanting from afar, like we have with Eva and Nate, and I NEED their love to work out!
Facing death these two have no use for sidestepping their obvious long held feelings, still, there was a gradual, tentative progression with their relationship.
Loved it!
Melissa Marr weaved a disturbing thriller with a swoony romance all in one exciting story! Can't wait to see what she comes up with next!
Connect with Melissa Marr:
I've decided to give my
ARC copy of Made For You
to one lucky reader. The giveaway is open to
US or Canadian residents only
. Simply fill out the rafflecopter for a chance to win.
a Rafflecopter giveaway