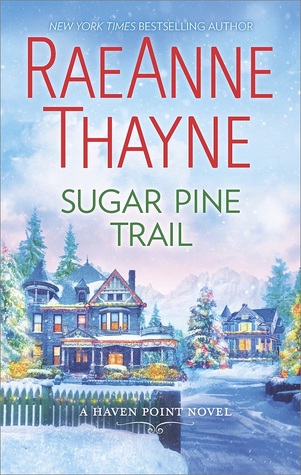 Sugar Pine Trail (Haven Point #7) by RaeAnne Thayne
Publisher:

Harlequin Books
Publication date:
September 26th 2017
My rating:

4 Stars
Amazon | Barnes & Noble | Kobo | iBooks
An unlikely attraction brings comfort, joy and unforgettable romance this holiday season!

Librarian Julia Winston is ready to ditch the quiet existence she's been living. She's made a list of new things to experience, but falling for Jamie Caine, her sexy military pilot neighbor, isn't one of them. Julia's looking to conquer life, not become the heartbreaker's latest conquest. But when two young brothers wind up in Julia's care for the holidays, she'll take any help she can get—even Jamie's.

Happy to step in, Jamie reveals a side of himself that's much harder to resist. Not only is he fantastic with kids, he provides the strength Julia needs to tackle her list. She knows their temporary family can't last beyond the holidays, but the closer she gets to Jamie, the more she wonders if things could be this merry and bright forever…
My Thoughts:
Julia Winston is the town librarian with a secret long-time crush on sexy pilot Jamie Caine.
She never imagines that he'd look at her twice, but when a friend suggests he rents the upstairs level in her large, historic home, and they can't help but bump into each other.
When two kids, eight and six-year-old Clint and Davy, need her to take them in, Jaimie steps up to help wrangle the boys, melting Julia's heart in the process.
Jamie is surprised by the attraction he feels for the demure, uptight librarian, but he can't let his attraction go anywhere.
Julia's a forever-type of girl, and he hardly ever goes on a second date.
This might make you think Jamie is the usual player-type jerk, but he's a sweetheart, plagued by guilt over the past. Soon spending time with Julia and the boys feels vital and he can't hardly stay away.
Both Julia and Jamie were lonely in their own way, but you know there's an end in sight when they lay eyes on each other. Clint and Davy, the two boys who need a home when their mom disappears melds them together into a makeshift family, one that completely tugged at my heart strings!
Julia has such a big heart full of love, she helps both the kids and Jamie without an ounce of judgment or expectation.
Jamie stumbles on a sort of bucket-list of Julia's, who's lived the last few years helping ailing parents, and he can't help but make it his mission to secretly help her check everything off.
I previously read Serenity Harbor by RaeAnne Thayne and it wasn't my cup of tea, but that was more because of the circumstances of the book than because of the writing, so I was determined to give her another shot, and I'm glad I did.
Sugar Pine Trail
was a sweet, heartwarming story of love and finding the "one" when you least expect it. A perfect holiday kind of read!
Connect with RaeAnne Thayne: