Hi everyone, with Rachel and I's crazy work schedules, we miss sharing whats going on with us. We used to have a lot of fun with our Showcase Sunday posts, so thought we'd do something regular on the blog, where we share bookish news and life news in general as a weekly recap! We've decided to link our weekly wrap up's with The Sunday Post hosted by Kimberly @
Caffeinated reviewer
.
Jasprit
This week was just so tiring, I was planning on going to circuits class, but then I didn't, I was planning on going to the gym, but I didn't go there either. I've just been coming back from work completely exhausted. And then when I plan to go bed early, I end up staying up super late and only getting like 5 hours sleep and being all exhausted again. Me and my cousins a few Summer's ago did a mobile phone ban, some of us, mainly my sister were addicted to their phones, so we put all of ours away in a box and hid them away. We needed a break from them and just be social for once, I think I so need to do this again, as I plan to read or watch something, but then I find myself scrolling through Twitter and then my Instagram and before you know its like 1am? Does anyone else get like this? Well next week I'm definitely going to try and change this around and read instead of procrastinating and try and fit in more hours of sleep somehow!
WHAT I READ/REVIEWED
Jasprit
(Click on title for Goodreads link)
This was my first book by Higgins and it was such a surprising read, I know a few of my blogging friends are fans of Higgins work and I can definitely why! I can't wait to pick up more of her books soon.
(Click on title for Goodreads link)
I've had a great reading week. Jasprit and I buddy-ready Now That You Mention It and I couldn't put it down! My favorite Kristen Higgens so far. I listened to Cold-Hearted Rake and Marrying Winterborne by Lisa Kleypas after noticing my library had the audios and I LOVED them sooo much! I'm doing a re-read *listen* of Devil in Spring now and swooning all over again! Lisa Kleypas writes so beautifully! Unfortunately, I had a bad apple in the mix. Second Chance Girl was a complete disappointment with one-dimensional, and frustrating characters. I should give the author another try, but I kind of doubt I will.
(Click on title for Goodreads link)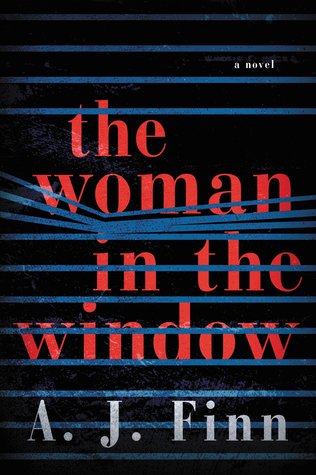 I first came across this book this week thanks to Leanna, I read the blurb and was like oh my god I need to read this book, I don't know why but it's giving me Gillian Flynn vibes, (I loved Gone Girl and nothing has been able to compete ever since), so I have my fingers crossed that this will be a great book!
(Click on title for Goodreads link)
The Lucky Ones sounds dark, and mysterious; supposed to be a Gothic mystery, perfect for this time of year! I accidentally clicked the widget for With This Christmas Ring, but it was the one book of the group that I wanted to read the most, so we'll see. I got a copy of The Girl in the Picture after reading
Lily's intriguing review
. Past and present mysteries collide. I'm supper curious! Roomies sounds exactly like my kind of romance. Can't wait!
NEW TO MY TBR
Jasprit
(Click on Book for Goodreads link)
The Woman in the Window was actually the only book I added to my tbr pile this week, Leanna like I mentioned did an excellent post of new reads on her radar, I may have to go back and check more of them out. You can see her post here.
(Click on cover for Goodreads link)
A Goodreads friend started reading The Mountain Between Us which has been turned into a movie (I had no clue since I never watch TV). Anyhow, I read the blurb and it sounded like On the Island but set in the mountains. I'm buying an e-copy and audio copy. The e-copy for my husband and the audio for me. My husband and I both devoured On the Island several years ago and it continues to be one of our favorite books ever. The narrator, George Newbern, is a narrator I really enjoy!
WHAT I'M WATCHING
:
Jasprit
With so many shows returning this Autumn, its so hard to keep up! I've managed to keep up with Strictly Come Dancing, I swear last week's episode was like 2 and a half hours, but I just can't get enough! This week is Movie week and I can't wait! The Apprentice is also back and I absolutely love this show, I love Claude and Karen and how they just have the candidates up. The candidates appear really ridiculous already, it's early stages yet, but I'm hoping they'll get clued up and fast!
Rachel:
I haven't watched a single thing this week (I seriously have had NO time) but upon closing the computer I'll be watching Gone, Girl. We'll see how it turns out. :)
EVENTS OF THE WEEK
Jasprit
So this week I did something to my back, I think with all the weight I have to carry to work, I'd overstuffed my bag, and honestly it was just killing me, by the end of week I was carrying two bags, which was so much easier, but I'm thinking I may need to invest in a wheely trolley! So I've been trying to do as much yoga as I can to help ease the pain, but also when I'm super stressed and anxious, it proper helps me to calm down. I normally follow Adrienne, as her yoga is superb! I noticed that she had a special calendar for the month, so I've been doing as much as I can this week!
Got the stomach flu on Monday. Drove to work and then turned the car around and went home. It was that bad. I couldn't run on Tuesday and then I still felt week for my runs on Thursday and Friday. It sucks getting sick, but I'm glad it was short-lived. I run 10 miles tomorrow. My half-marathon is 3 weeks from tomorrow!! I'm nervous and excited.