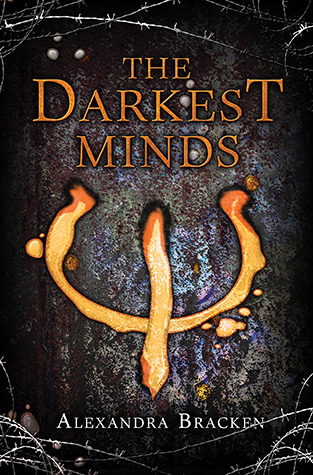 The Darkest Minds by Alexandra Bracken
Publisher:
Disney Hyperion
Publication date:
December 18th 2012.
My rating:
4.5 stars.
When Ruby woke up on her tenth birthday, something about her had changed. Something alarming enough to make her parents lock her in the garage and call the police. Something that gets her sent to Thurmond, a brutal government "rehabilitation camp." She might have survived the mysterious disease that's killed most of America's children, but she and the others have emerged with something far worse: frightening abilities they cannot control. Now sixteen, Ruby is one of the dangerous ones. When the truth comes out, Ruby barely escapes Thurmond with her life. Now she's on the run, desperate to find the one safe haven left for kids like her—East River. She joins a group of kids who escaped their own camp. Liam, their brave leader, is falling hard for Ruby. But no matter how much she aches for him, Ruby can't risk getting close. Not after what happened to her parents. When they arrive at East River, nothing is as it seems, least of all its mysterious leader. But there are other forces at work, people who will stop at nothing to use Ruby in their fight against the government. Ruby will be faced with a terrible choice, one that may mean giving up her only chance at a life worth living.
"The Darkest Minds tend to hide behind the most unlikely faces"
The Darkest Minds was a book that I had seen for some time, but not really paid much attention to, however as soon as I started my copy, I was thrilled to hear from many readers that they had been huge fans of it. Also being in the mood that I was, not wanting to read much, largely because of lack of time, I was hoping that The Darkest Minds would be something that would blow me away. And despite it taking me nearly a month to read it, I ended up really enjoying The Darkest Minds.
The Darkest Minds starts off with our MC Ruby in a rehabilitation camp called Thurmond, she's been there since the age of 10, and all kids at around this age are tested and grouped according to their ability. Despite being stuck here for nearly six years, Ruby has lucked out sort of, she scraped under the radar, so could have found herself in a much worse situation. I liked how with Ruby, we weren't given the full picture with her immediately, we didn't really know the full extent of her abilities, or even how she ended up in Thurmond in the first place. So getting little titbits of her experiences was refreshing. I felt that I was getting to know her that little bit more when she began to open up and share more of her back story with us.
Ruby's story was at times a really heartbreaking one, with everything she had been through; you really wanted her to get her happy ending that she deserved. But I knew with everything going on it would be a struggle to achieve this. But The Darkest Minds was also a story filled with hope; hope that there would be a light at the end of the tunnel that children would be free once more.
I loved the characters that Bracken created in this story; Liam, Chubs and Zu, people who found themselves in a situation with Ruby, but decided to trust her without knowing anything about her. I loved the relationships that formed with these characters over the course of the story, how such genuine characters they were, how they just got each other and knew they could trust one another. I'm glad that with this book like Olivia Pope from Scandal I had a gut feeling about characters. I knew which ones would remain loyal through and through. So when a particular character did make an appearance later on, I'm glad that despite being slightly swayed, I stuck to my gut instinct of knowing that there was something dodgy about them. Bracken really put my heart through the shredder when it came to her characters, I didn't want anything to happen to them, especially to the ones that I had formed close relationships with. Chubs, Ruby, Zu and Liam really stood out for me; they really made a formidable team. I enjoyed getting their individual back stories and learning what bought them together. I especially loved the relationship that developed between Liam and Ruby. Liam really did take me by surprise as at first he didn't come across boyfriend/fictional crush material, but seriously Liam completely won me over by the end. He had everything to offer and so much more; he would put his neck on the line by searching new places before anyone else, he would be there when little Zu had a bad dream, by comforting her and reassuring her that everything would be okay and he always had hope which he was easily able pass onto the others. But his scenes with Ruby just made my heart melt, there were so many obstacles in their way, especially later on, but I loved the moments they were able to steal together.
The Darkest Minds was a book full of nonstop action, it was a read where I had an inkling that something major was about to go down, but I never knew to what extent. I would highly recommend giving The Darkest Minds a go, especially if you love your thrilling reads, sprinkled with a sweet romance. Also I have to mention the ending!! Why??? (I have been lurking about for the last few days for my copy of Never Fade to arrive, as things better be different in that book!).