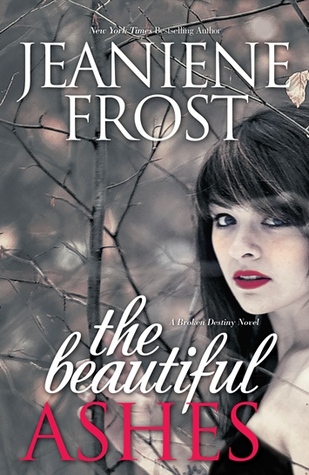 The Beautiful Ashes (Broken Destiny #1)
by Jeaniene Frost
Publisher:
Harlequin
Publication date:
August 26th 2014
My rating:
DNF
In a world of shadows, anything is possible. Except escaping your fate.

Ever since she was a child, Ivy has been gripped by visions of strange realms just beyond her own. But when her sister goes missing, Ivy discovers the truth is far worse—her hallucinations are real, and her sister is trapped in a parallel realm. And the one person who believes her is the dangerously attractive guy who's bound by an ancient legacy to betray her.

Adrian might have turned his back on those who raised him, but that doesn't mean he can change his fate…no matter how strong a pull he feels toward Ivy. Together they search for the powerful relic that can save her sister, but Adrian knows what Ivy doesn't: that every step brings Ivy closer to the truth about her own destiny, and a war that could doom the world. Sooner or later, it will be Ivy on one side and Adrian on the other. And nothing but ashes in between…
DNF at 58%

I just can't read this anymore. I have no patience for the doomed, forbidden romance that I've had zero feelings for. Instant attraction can work for me, but it just doesn't here.

This feels like more of a YA read than an adult. Ivy comes off more like a fifteen-year-old than the twenty years she's supposed to be. To be fair, my impression may have been tainted by starting with the audio version which I had to stop listening to. The narrator made Ivy sound shrilly which is hardly an appealing quality in a heroine. I don't recommend the audio version at all.

I switched to reading instead but I still couldn't get into this story. I wish I swooned over Adrian, but his withholding of information and keeping of secrets made it impossible to connect with him.

My feelings could be due to my reading mood, so check out other reviews before making your decision to read this story.