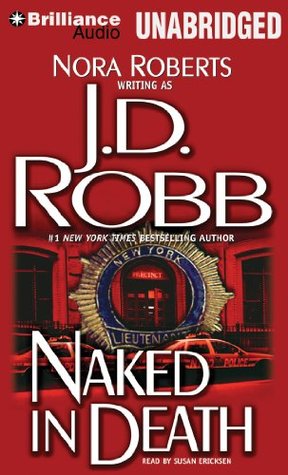 Naked in Death
(In Death #1) by J.D. Robb
Narrated by
: Susan Eriksen
Publisher:
Brilliance Audio
Length:
10 Hours 19 Minutes
Audiobook Publication date:
May 20th 2008
My rating:
4.5 stars



Eve Dallas is a New York police lieutenant hunting for a ruthless killer. In over ten years on the force, she's seen it all — and knows that her survival depends on her instincts. And she's going against every warning telling her not to get involved with Roarke, an Irish billionaire — and suspect in Eve's murder investigation. But passion and seduction have rules of their own, and it's up to Eve to take a chance in the arms of a man she knows nothing about — except the addictive hunger of needing his touch.
Naked in Death was a thrilling mystery with excellent pacing, exciting twists and turns, and a sizzling romance!
Eve Dallas is a Lieutenant in a futuristic New York City Police Department and has just caught the murder case of high-priced paid companion, Sharon DeBlass. The murder is brutal and bloody, and "one of six" so unless the police can stop this lunatic, more women will die. Eve has been handpicked as the lead investigator by her Commander for her impeccable detecting skills. The victim is high profile, coming from a family of wealth and prominence.
Sharon's choice of profession was not out of need but out of preference, and the source of embarrassment to her family.
There's a long list of suspects and topping that list is the charismatic, wealthy, and famous businessman, Roarke.
Right away there is a fierce hum of attraction vibrating between Eve and Roarke.
Roarke would never purposefully be attracted to a cop, but he can't help it with her.
"It stunned him how much he could want her still, baffled him that she could be blind to how helpless he was under the clawing need for her. It infuriated him that she could, simply by existing, be his weakness."
He's taken with Eve and her intense, focused, complicated personality. Roarke sees the darkness floating just under the surface with Eve and it draws him in even more. Eve knows allowing anything to happen with Roarke could be career suicide, but he's a force to be reckoned with.
This is my first experience reading J.D. Robb, aka Nora Roberts, and I have to say I'm impressed! I love mysteries and if they have some romance so much the better.
Both the mystery and the romance were just to my liking! I had suspicions about the murderer, and it ended up being what I thought, but that's not to say that Ms. Robb didn't make me doubt and question my suspicions, and I loved being caught off guard! The investigation had a steady stream of revelations, and a suspenseful ending that kept me riveted to the pages!
A BIG part of the appeal to the story was the romance (of course!) between Eve and Roarke. I've heard plenty of swooning over Roarke, and I'm now one of the legions of fans swooning and drooling!
But Eve was just as magnetic in her personality and I was just as enamored with her.
She was intelligent, strong, capable, and yet far from perfect.
And yet those flaws made her relatable and sympathetic.
Eve's sad history is revealed and it made me sick, so it was easy to understand why she's hesitant to let Roarke close. I'm happy, though, that Eve wasn't completely ruled by her past, and did let Roarke burrow in. With Roarke Eve experiences pleasure she's never had or allowed before, and it's hot and lusty!
But it was more than just the physical Eve found appealing with him.
Having someone to rely on, confide in, and bounce ideas off is a comfort she's never had.
Naked in Death
is mystery and romance at its finest!
I've already started the next in the series,
Glory in Death
, and I just know I'll be burning through the books quickly, it's that addictive! I switched off between the audio version and an e-Copy because the story sucked me in so, but I'd definitely recommend the audio version. Susan Ericksen as narrator brings Roarke and Eve's big personalities to life.
Roarke's Irish accent is subtle and perfect, enhancing the overall experience.
I must give a shout out of thanks to
Livvy @The Absent Historian
for the recommend!