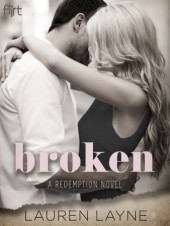 Broken (Redemption #1) by Lauren Layne
Publisher:
Random House Flirt
Publication date:
September 2nd 2014
My rating:
4 stars
Amazon | Barnes & Noble

Lauren Layne's New Adult novel tells the story of a girl with secrets, a guy with scars, and a love that could save them both... or destroy them.

When Olivia Middleton abandons the glamour of Park Avenue for a remote, coastal town in Maine, everyone assumes she's being the kind do-gooder she's always been. But Olivia has a secret: helping an injured war veteran reenter society isn't about charity—it's about penance. Only, Olivia's client isn't the grateful elderly man she's expecting. Instead, he's a brooding twenty-four-year-old who has no intention of being Olivia's path to redemption . . . and whose smoldering gaze and forbidden touch might be her undoing.

Paul Langdon doesn't need a mirror to show him he's no longer the hotshot quarterback he was before the war. He knows he's ugly—inside and out. He'll do anything to stay in self-imposed exile, even accept his father's ultimatum that Paul tolerate the newest caretaker for three months or lose his inheritance. But Paul doesn't count on the beautiful twenty-two-year-old who makes him long for things that he can never have. And the more she slips past his defenses, the more keeping his distance is impossible.

Now Paul and Olivia have to decide: Will they help each other heal? Or are they forever broken?
I'm a huge fan of Lauren Layne because she shines in writing witty, chemistry laden romances guaranteed to tug at your heart!
I loved the first in this series,
Isn't She Lovely
, so I was thrilled to have Olivia's story. Even though she was technically the cheating girlfriend (not as bad as it sounds, I promise) I felt bad for her.
Olivia is trying to escape and redeem herself for a mistake that cost her longtime boyfriend.
Taking a job as a caretaker for an injured veteran satisfies her need for penance and to get away from all her friends, but Olivia doesn't really know what she's gotten herself into.
Thinking she'll be caring for an old injured man, she's shocked when she finds out that she's the paid companion to a hostile man just a few years older than her.
Paul has horrible jagged facial scars on one side of his face and an injured leg, but that doesn't hide the fact that he is gorgeous, and in spite of his horrible attitude Olivia is intensely attracted to him.
Paul is an ex-soldier suffering from a major dose of survivor's guilt.
His only purpose in the world at this point is to provide for a fallen teammate's spouse and sick daughter. So when Paul's father makes sticking with his new caretaker/companion for three months a requirement for keeping his payments and house, he has to make nice with Olivia instead of scaring her off like he's done with all the others.
He's a
smidge
less hostile to Olivia.
And I do mean
just
a smidge!
Paul is "rude, angry and generally unpleasant" but even so there is combustible sexual tension between these two!
He had no idea Olivia would be around his age and beautiful.
She's exactly the type of girl he'd date before his injury and facial scars, and it unsettles him. Plus, Olivia gives as good as she gets and doesn't tip toe around Paul with pity.
She was blunt and rude right back, and it stunned him, spurred him onto rising to her challenges, and making positive changes.
Soon Paul is coming back to the land of the living while falling a little more for Olivia every day.
But he's afraid once her time is up and once she realizes she could do better than a washed up, scarred vet, he'll be alone, and the difference is, this time he cares.
Paul was moody, broody and sometimes downright cruel in his treatment of Olivia! He'd act like a petulant child and one of his tantrums was a completely disproportionate, over-the-top reaction to Olivia's supposed transgression.
I wanted to knee him, good and hard for Olivia a couple of times! But then I thought about being in his head.
Paul was depressed and angry, and he had pretty much cut himself off from socialization, so some of his reactions were not coming from a mentally well-adjusted person.
Olivia is the first person he was actually opening up to in a very long time, so I could understand how a relatively small matter would come off as a huge betrayal to Paul. Thankfully, Olivia recognizes this to some degree and cuts him a break.
Olivia and Paul's interactions were the: "I hate you, I hate you, but really I want to tear your clothes off and ravage you!" type.
Paul's rough, gruff and uncivilized manner was completely tantalizing to Olivia!
That dark and dangerous vibe he broadcasted was completely sexy!
I lick my lips nervously, noting the way his eyes follow the motion of my tongue, and I finally accept that in spite of myself—in spite of the fear—I'm ridiculously attracted to him. Attracted in a fierce, animalistic way that I've never felt ever.
And Olivia's irreverent rebuttals draw Paul in like a magnet! They couldn't seem to keep their lips or hands off each other! Oh my!
Lauren Layne once again impresses with Broken. Paul and Olivia's romance was filled with passion and heart, and was a pure pleasure to experience!
Connect with Lauren Layne: