Waiting on Wednesday is a meme hosted by
Jill at Breaking the Spine
, which spotlights upcoming releases we're eagerly anticipating.
The book I'm eagerly looking forward to is: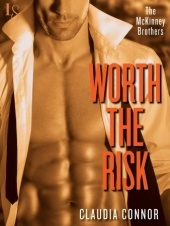 Worth the Risk (The McKinney Brothers #2) by Claudia Connor
Expected Publication Date: January 20th 2015
About the book:
When a McKinney brother falls in love, powerful emotion and overwhelming desire are never far behind.

Two hearts locked away . . . Hannah Walker spends her days coaching children through injury and trauma, one therapeutic horseback ride at a time. She knows all too well how violence can change a child and leave scars that never heal. It's easy for her to relate to the kids; what isn't easy is the thought of facing her own harrowing past.

Millionaire playboy Stephen McKinney could use a little coaching himself. Five years ago he encountered his most horrible nightmare—and the nightmare won. No matter what he achieves, nothing can make up for that awful night . . . or so he believes.

Both desperate for a second chance . . . Stephen is used to getting what he wants. And he wants Hannah. So when she turns him down, he's intrigued. What he doesn't know is that her secrets will lead him to a place he never wanted to go again . . . to a side of himself he's tried to forget . . . a side that would scare Hannah away from ever loving him. Now his only chance to win her trust is to bare his soul, risking everything he tried so hard to protect.

I LOVED Worth the Fall the first in this series (my review), so I can't wait to pick up the next which focuses on Stephen, the absentee, rich brother. I'm hoping to get a glimpse of Matt, Abby and the kids, too! Plus, how can you resist that cover?!! Where's my bottle of whip cream?

What are you dying for? Link me up and I'll come and check it out!