Hi everyone, if you know me by now, you'll know I'm a huge fan of Sarah Alderson, when I first heard that she was writing a New Adult book, I was way excited, firstly I haven't fallen in love with NA books as I know a lot of readers have, but I knew if Sarah was writing anything, I would totally love it, and I was spot on. I had to deal with all the swoon and heartbreak that was thrown at me in Come Back to Me, you can read my review here.
Mila (Sarah) has been having a great amount of success with Come Back to Me so far, its been set up for release in the US sometime in 2015 and in Australia in November 2014. It's also reached number #8 in the bestsellers chart in WHSmith in the UK. So to help celebrate its paperback release here in the UK on October 23rd, Sarah has a great giveaway for you guys, which you can enter by completing the rafflecopter form below. But before that here's a bit about the book.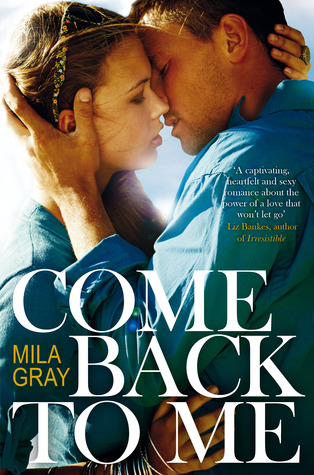 Come Back to Me by Mila Gray
Home on leave in sunny California, Marine and local lothario Kit Ryan finds himself dangerously drawn to his best friend's sister, Jessa - the one girl he can't have. But Kit's not about to let a few obstacles stand in his way and soon Jessa's falling for his irresistible charms. What starts out as a summer romance of secret hook-ups and magical first times quickly develops into a passionate love affair that turns both their worlds upside down. When summer's over and it's time for Kit to redeploy, neither Kit nor Jessa are ready to say goodbye. Jessa's finally following her dreams and Kit's discovered there's someone he'd sacrifice everything for. Jessa's prepared to wait for Kit no matter what. But when something more than distance and time rips them apart they're forced to decide whether what they have is really worth fighting for. A breathtaking, scorchingly hot story about love, friendship, family and finding your way back from the edge of heartbreak.
a Rafflecopter giveaway
Having spent most of her life in London, Sarah quit her job in the non profit sector in 2009 and took off on a round the world trip with her husband and princess-obsessed daughter on a mission to find a new place to call home. After almost a year spent wandering around India, Singapore, Australia and the US, they settled in Bali where Sarah now spends her days writing and trying to machete open coconuts without severing a limb.

She finished her first novel Hunting Lila just before they left the UK, wrote the sequel, Losing Lila, on the beach in India, and had signed a two book deal with Simon & Schuster by the time they reached Bali.

Since then she has published a further four novels and several short stories. The contemporary thriller The Sound, will be published in the US in May 2014, while Out of Control, a thriller with a focus on human trafficking, will also be released in May in the UK.

As well as Young Adult fiction, Sarah writes New Adult fiction for Pan Macmillan under the pen name Mila Gray. Her first novel Come Back To Me will be out in summer 2014. Sarah has co-written the Hunting Lila screenplay, an adaptation of her upcoming YA novel Out of Control, and is working on several other books and screenplays (multi-tasking is one of her favorite things).