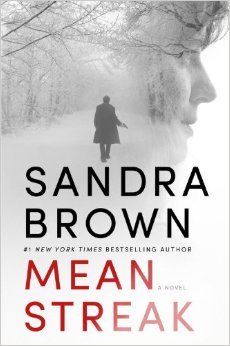 Mean Streak by Sandra Brown
Publisher:
Grand Central Publishing
Publication date:
August 19th 2014
My rating:
5 stars
Amazon | Barnes & Noble | The Book Depository
Dr. Emory Charbonneau, a pediatrician and marathon runner, disappears on a mountain road in North Carolina. By the time her husband Jeff, miffed over a recent argument, reports her missing, the trail has grown cold. Literally. Fog and ice encapsulate the mountainous wilderness and paralyze the search for her.

While police suspect Jeff of "instant divorce," Emory, suffering from an unexplained head injury, regains consciousness and finds herself the captive of a man whose violent past is so dark that he won't even tell her his name. She's determined to escape him, and willing to take any risks necessary to survive.

Unexpectedly, however, the two have a dangerous encounter with people who adhere to a code of justice all their own. At the center of the dispute is a desperate young woman whom Emory can't turn her back on, even if it means breaking the law.

As her husband's deception is revealed, and the FBI closes in on her captor, Emory begins to wonder if the man with no name is, in fact, her rescuer.
Mean Streak
was my first reading experience by Sandra Brown, but it won't be my last. It was a cleverly crafted mystery with plenty of suspense, danger, twists and turns, and a
very
sexy romance!
I think it's best to go in with just the barest of facts and relish the mystery and revelations as they come.
Dr. Emory Charbonneau is training for a marathon and goes on a strenuous mountain trail, gets knocked out and wakes up in a stranger's cabin without any knowledge of how she got there. The stranger is kind and cares for Emory, but he's not forthcoming at all.
She has no idea if he means her any harm, but she's definitely on guard because things do not add up.
Will he let her go once she's well enough?
Is he hiding from something like the law and does he have more sinister plans for her?
There is a raw masculine quality to this him that excites and scares Emory.
Every feminine urge had sprung to life, and it wasn't just the long dormancy that had made her sexual desire so acute. It was him.
In the mean time, Emory's husband, Jeff waits to sound the alarm after she goes missing, and this raises suspicions and questions.
They were not on the best of terms when Emory walked out the door, but does that make him guilty of anything?
Oh, this mystery was so addictive and well crafted!
I'm a huge mystery fan and I've read so many that it's hard to pull one over on me, but I was surprised several times!
Loved these twists and turns! I was even surprised with the culprit, but looking back it was a well supported conclusion, I just didn't see it. I hate it when an author reveals the offender and it comes as a shock because no foundation was laid. Not the case here, and I was in awe of Sandra Brown's plotting!
As for the romance, it was delicious and sensual, and I won't say much more than that! Oh, my!
"If I'd had to, I would have wrapped you in bailing wire and carried you off. Because I'd rather see you shy away from me, rather see you cringing with fright and mistrust like you are now, rather see you any other way except dead."
It wasn't poetry, but it was profound. Her heart expanded with emotion.
This is a definite recommend!