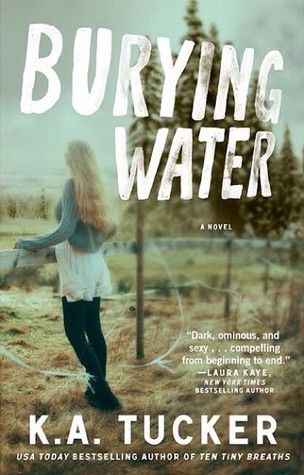 Burying Water ( Burying Water #1)
by K.A. Tucker
Publisher:
Atria Books
Publication date:
October 7th 2014
My rating:
4.5 stars
Amazon | Barnes & Noble | The Book Depository
The top-selling, beloved indie author of Ten Tiny Breaths returns with a new romance about a young woman who loses her memory—and the man who knows that the only way to protect her is to stay away.

Left for dead in the fields of rural Oregon, a young woman defies all odds and survives—but she awakens with no idea who she is, or what happened to her. Refusing to answer to "Jane Doe" for another day, the woman renames herself "Water" for the tiny, hidden marking on her body—the only clue to her past. Taken in by old Ginny Fitzgerald, a crotchety but kind lady living on a nearby horse farm, Water slowly begins building a new life. But as she attempts to piece together the fleeting slivers of her memory, more questions emerge: Who is the next-door neighbor, quietly toiling under the hood of his Barracuda? Why won't Ginny let him step foot on her property? And why does Water feel she recognizes him?

Twenty-four-year-old Jesse Welles doesn't know how long it will be before Water gets her memory back. For her sake, Jesse hopes the answer is never. He knows that she'll stay so much safer—and happier—that way. And that's why, as hard as it is, he needs to keep his distance. Because getting too close could flood her with realities better left buried.

The trouble is, water always seems to find its way to the surface.
Burying Water was a big story with the flashbacks to the past, mystery, memory loss and a romance all part of the plot, but thought K.A. Tucker did an amazing job pulling it off! I loved it!
We have Jesse's POV from the past and then Water's POV in the future, both stories tied intricately and the story of what happened to Water slowly unfolds through these alternating POVs.
We start out with Jesse's POV which details him falling for a woman named Alex, twenty-two and married to a very rich, but very bad man, Viktor. Alex cleaned his apartment which is how she met and fell for Viktor when she was just seventeen. He was charming, handsome and rich.
What seventeen-year-old wouldn't jump at the chance of "prince charming" sweeping you off your feet? Little did she know that Viktor was a wolf in sheep's clothing!
Viktor as it turns out is a volatile man capable of violence if he's not happy, and used to having anything he wants, including other women.
Alex despairs over the reality her life has become.
Alex comes onto Jesse's radar by a chance meeting, but they're drawn to each other no matter how impossible a romance seems. Jesse witnesses Viktor's despicable treatment of Alex and desperately wants to take her away.
Can they get away from the dangerous and influential Viktor?
Water's POV is in the present and starts when she wakes in the hospital with no memory and a host of injuries. She can't remember her name, whether she was married, or has family. Even her own appearance is a mystery, but she does know she was brutally attacked and barely survived!
Water feels alone in the world but she's shown kindness by her surgeon, Dr. Alwood, the Sheriff, and Nurse Amber who all become like family to her.
Ginny Fitzgerald, an eccentric, feisty old woman, and Dr. Alwood's neighbor, offers Water a place to stay when she's released, and Water couldn't be more grateful.
What other options does she really have?
Water starts her life over, yet the fact that the person who brutally assaulted her and left her for dead is out there somewhere is an unsettling thought.
Does she really want those memories to come back?
Will her attacker find her again?
And why is she so drawn to Dr. Alwood's son, Jesse?
It's not hard to put two and two together when you first start reading
Burying Water
but that doesn't make the journey any less satisfying.
Finding out what led up to Water's attack, flashing back to Alex and Jesse's burgeoning romance, and then seeing Water survive and thrive in the present was completely captivating!
The support she receives is touching, mostly notably from Ginny, the elderly woman who takes her in. Ginny was a prickly pear, but she had a soft spot for Water.
She had her own sad demons and both Water and Ginny drew close over shared tragedy.
I was a bit on edge reading Jesse's past POV chapters because as the reader you know the eventual outcome, but it gave depth and history to the story that wouldn't be there otherwise. Also, it had me rooting for the romance in the future.
I ached for these two to have their much deserved happy ending! I really felt for Jesse, we get glimpses of his raw pain through Water's POV in the present, although she's not sure of the reason behind it, at first.
There was just no keeping these two apart and the healing they provide one another filled my heart with joy!
I've been a huge fan of K.A. Tucker's
Ten Tiny Breathes
series.
Burying Water
felt very different, but oh-so-good!
Her talent as a writer shines through with this fresh, suspenseful, and heartfelt tale.
Connect with K.A. Tucker: