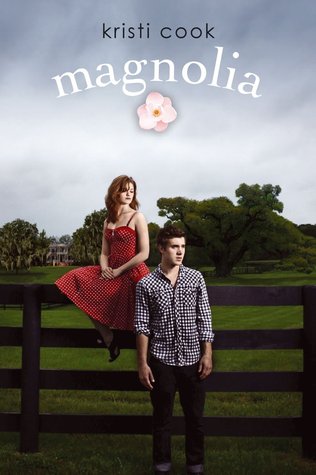 Magnolia by Kristi Cook
Publisher:
Simon Pulse
Publication date:
5th August 2014
My rating:
4 stars
In Magnolia Branch, Mississippi, the Cafferty and Marsden families are southern royalty. Neighbors since the Civil War, the families have shared vacations, holidays, backyard barbecues, and the overwhelming desire to unite their two clans by marriage. So when a baby boy and girl were born to the families at the same time, the perfect opportunity seemed to have finally arrived. Jemma Cafferty and Ryder Marsden have no intention of giving in to their parents' wishes. They're only seventeen, for goodness' sake, not to mention that one little problem: They hate each other! Jemma can't stand Ryder's nauseating golden-boy persona, and Ryder would like nothing better than to pretend stubborn Jemma doesn't exist. But when a violent storm ravages Magnolia Branch, it unearths Jemma's and Ryder's true feelings for each other as the two discover that the line between love and hate may be thin enough to risk crossing over.
Magnolia was one of those read in one sitting sort of books. I was in the mood for something light, funny and being a huge fan of antagonistic characters I knew I would end up loving Magnolia.
Ryder and Jemma have grown up together with a huge amount of pressure and expectation on them. As their families have been close friends for the last few generations, they all expected some romantic relationship to develop between the Marsden/ Cafferty families. So everyone especially Ryder's and Jemma's mums are over the moon when Ryder and Jemma are born, in their eyes they are perfect for one another. Having this idea enforced upon you every time you meet one another would be hugely annoying. And I can see why the way Ryder and Jemma's relationship ended up. Of course there were those little miscommunications that ended up putting a splinter in the works too. But knowing me if I was in Jemma's shoes I think I would have reacted the same way too. (I'm known to hold a grudge for a while too, and never one to reveal to the person for a long time what they did wrong in the first place). But I loved the snippy relationship Ryder and Jemma had at the beginning. Despite encouragement from all around them, they stood their ground on how their relationship should be, and that's one of the things I liked about them. Despite it being obvious that they would make a great couple, bad attitudes aside they both did what they wanted to do, I'm glad to see that this theme continued later in the book too.
Jemma and Ryder were both fantastic characters, despite having this bravado when the other was around. I loved how when they were experiencing difficult times, they would be there for one another; these short sweet bursts of tenderness were definitely worth waiting for. Cook was also able to include a fantastic set of secondary characters, I loved reading the minor storylines that Cook included into this story, and she certainly went on to show just how important family could be to both of these characters. I also enjoyed the set of friends that both Jemma and Ryder had, they were funny, loyal and I enjoyed the banter they could bring within a tense scene.
Magnolia was a fantastically written story by Cook, with the bad couple of reading months I had been having, it was definitely something I needed. I only had a few minor irks (highlight to view spoiler)
I wish that Patrick hadn't been killed off, I'm not usually a fan very pretty wrapped happy endings, but I wouldn't have minded Patrick surviving and actually maybe turning his life around and meeting someone special. And also how long it took Ryder and Jemma to get together. The scenes they shared between them were beautiful, that I wished that they had got together sooner, so that we could experience more of it sooner!
. Despite these minor irks of mine, they didn't reduce my overall reading experience of this book. I will definitely be buying a finished copy, so that I can re-read those sweet lovely scenes again which totally melted my heart and those scenes which left me with a big goofy grin on my face. I highly recommend giving Magnolia a go, it is certainly one of those books which will cheer you up when you need a quick pick me up and will leave you with a spring in your step for the rest of the day!