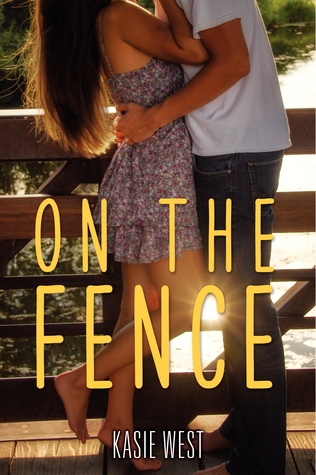 Review: On the Fence by Kasie West
Publisher:
Harper Teen
Publication Date:
July 1st 2014
My rating:
4 stars
For sixteen-year-old Charlotte Reynolds, aka Charlie, being raised by a single dad and three older brothers has its perks. She can outrun, outscore, and outwit every boy she knows—including her longtime neighbor and honorary fourth brother, Braden. But when it comes to being a girl, Charlie doesn't know the first thing about anything. So when she starts working at chichi boutique to pay off a speeding ticket, she finds herself in a strange new world of makeup, lacy skirts, and BeDazzlers. Even stranger, she's spending time with a boy who has never seen her tear it up in a pickup game. To cope with the stress of faking her way through this new reality, Charlie seeks late-night refuge in her backyard, talking out her problems with Braden by the fence that separates them. But their Fence Chats can't solve Charlie's biggest problem: she's falling for Braden. Hard. She knows what it means to go for the win, but if spilling her secret means losing him for good, the stakes just got too high.
You've probably noticed a pattern in my reviews the last couple of weeks, I've either had a hard time connecting with books, so they've taken me either days or weeks to finish or there's been a few spectacular books which all I've wanted to do is read all day. On the Fence was one of the latter books, I started it late one night and before I knew it I was already half way through and thoroughly loving it, This book was just freaking adorable.
Charlie was a fantastic character, she'd grown up with three older brothers and her dad and Braden next door, so she was always one of the guys, played soccer, was used to messing around with them, so never really had time for herself or even paid attention to what other girls focused on; hair, make-up, thinking through her out fit for the start of the day. I knew what it could be like for Charlie, I'd grown up with my cousins, so had been engrossed into sports from a very young age (I still am) and was used to being chucked about just so they could practice the latest wrestling move. I liked that Charlie felt comfortable in herself with the guys and who she was. But I was delighted that many more opportunities were thrown her way, which gave her the opportunity to try out things which she hadn't done and actually hang around with girls. It was really sort of confidence building for Charlie, having three over protective brothers around all the time, I liked that Charlie finally had time to herself.
What I also enjoyed about On the Fence was how family played a forefront in this book. There are far too many YA books where, family don't give a toss about what their kids up to or are never around when they get into trouble. But in On the Fence this was not the case, we had a father, who was in the know how (most of the time) with what was going on in his kid's lives and actually put his foot down and made them take responsibility for when they messed up. He actually made Charlie get a job to pay off her speeding tickets. Then there was Charlie's brothers; Jerom, Nathan and Gage, I absolutely loved these guys, especially Gage. I loved the fun they could have with each other, which was mainly goofing around. But also how they had Charlie's back (maybe the over protective brother came through strong a few times, but isn't that what brothers are there for?)
Then there's Braden, he wasn't your typical character which created all the swoons when you first meet him, for me it did take a while to totally fall head over heels for, this may be largely due to the fact that whenever Gage was about he was quickly able to distract me. But I loved the secret meetings him and Charlie had at the fence, how he was great at distracting Charlie when she was stressed out. There was that will they won't there for a while, and a bit of heart break along the way, but I think West did a great job in dealing with it all.
What surprised me the most I think was that I was expecting a light, fluffy book throughout, but there was also a darker underlying theme, and I really did like it, as we were never fully clued in on what was going on, until the very end. I always knew that West was a super talented author after devouring Pivot Point and Split Second, but for me I think On the Fence was my favourite book of hers yet. I highly recommend giving this book a go if you haven't already done so, it was a cute funny read and full with many memorable characters.