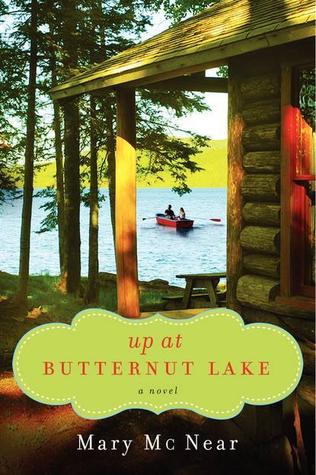 Up at Butternut Lake (The Butternut Lake Trilogy #1) by Mary McNear
Publisher:
William Morrow Paperbacks
Publication date:
April 8th 2014
My rating:
4 stars

In the spirit of Kristin Hannah and Susan Wiggs, comes this debut novel-the first in an unforgettable new series by Mary McNear

It's been ten years since Allie Beckett crossed the threshold of her family cabin at Butternut Lake, Minnesota. Now, newly widowed after the death of her husband in Afghanistan, she's returned with her five-year-old son.

There, she reconnects with the friends she had in childhood-best girlfriend Jax, now married with three kids and one on the way, and Caroline, owner of the local coffee shop. What Allie doesn't count on is a newcomer to Butternut Lake, Walker Ford.

Up at Butternut Lake follows these four unforgettable characters across a single summer as they struggle with love, loss, and what it means to take risks, confront fears, and embrace life, in all of its excitement and unpredictability.

Allie Beckett could never have imagined, when she ran away from her old life, that she was running into a whole new life, up at the lake….
Up at Butternut Lake was a story of finding love again and overcoming problems with the support of good friends. While the description makes it sound as if the story centers only on Allie, there are two other women with their own dramas that take up a good portion of the novel as well.
Allie Beckett has had a hard time moving on since the death of her husband, Gregg. He was killed in the line of duty two years prior.
Staying in the town where she was married meant pitying looks and reminders everywhere, and it was just too much for Allie to bear.
So she takes her five year old son to Butternut Lake to lead a simpler life where no one knows her history first hand, and where she has wonderful memories, staying at the family cabin. Allie finds a couple of good girlfriends, and the support she needs with Jax and Caroline.
She also meets Walker Ford, a new resident and owner of the big, ostentatious (by her standards) cabin directly across the lake from her.
They get off to a rocky start when he makes a few choice comments that come off arrogant, but there's definitely a spark there, and it completely takes Allie by surprise, waking up a part of her that's been long dead.
Walker has his own scars to bear as far as relationships go.
He married a woman he barely knew out of obligation and they had a miserable, lonely time together.
They parted ways, and Walker's not sure he's cut out for a relationship or marriage.
That is until he lays eyes on Allie.
She gets under his skin immediately and he can't stop thinking about her.
Jax and Caroline factor heavily into the book as well. Jax is a native of Butternut Lake and when Allie would visit they would hang out and have fun together.
Jax is now grown up and married to Jeremy, owner of the town hardware store, with three girls and another on the way.
Jax loves and appreciates the happy family she and Jeremy have built, and she loves him to pieces.
After being raised by two drunks with no inclination for parenting, she values her family like a treasure. But Jax is harboring a secret that could destroy it all.
Caroline factored a little less in the story because her story continues in the next book, but she still plays a large part.
She's a forty-something owner of the town coffee shop, and a single mother. She raised her daughter, Daisy by herself when her cheating husband took off.
Caroline has basically put her romantic life on hold, choosing to focus on raising her daughter, but now that Daisy's off at college, Caroline can't seem to get out of that rut.
When a nice customer starts visiting the diner and showing interest in Caroline she's uncertain about starting anything.
While she vacillates back and forth on that, Caroline is a caring friend to both Jax and Allie, providing a listening and supportive ear, and sage advice.
These three women bond and share strength, and it was lovely reading about positive female relationships, instead of women only being the source of competition and jealousy in a story.
Of course, it was the romances that held center stage for me.
Allie and Walker's was the main one, and it was full of longing and passion.
Allie did struggle with guilt at the thought of moving on, and Walker's had a
smidge
of cold feet, but nothing that was drawn out or frustrating. For the most part, this was a satisfying story of two mature people falling in love.
I really enjoyed Up at Butternut Lake, but I have to say that I'd rather have my romance more focused on one couple rather than parceled out between three women. I like having well fleshed out secondary characters, but I wanted more time spent with just Walker and Allie.
The ending was a little abrupt, but I have a feeling they'll play a large role in the next book, just like Jax and Caroline did in this one.
This is really, just a
very
small complaint. In the end
Up at Butternut Lake
was a lovely, easy read!